When you think about strong consumer brands, many of the companies that come to mind are probably brands that you encounter in your everyday life. The bottle of Coke you see while walking down the aisle of your local grocery store or the pint of Halo Top you see while scrolling on your favorite social media site. Generally speaking, the strongest brands have the biggest reach.
In today's multichannel world, measuring the reach of a brand in both offline and online settings is increasingly important to investors, CEOs, analysts, and anyone seeking insights into the booming CPG sector. Traditionally, the reach of brand is determined through things like an investor's "feeling" about a company, market hearsay about growth, or (at best) a smattering of different information sources hodge-podged together. At CircleUp, we believe in taking a data driven approach to these types of questions – that's why we developed the Consumer Reach Index.
The CRI, a new feature within our machine learning platform Helio, measures how likely a consumer is to encounter a particular brand or product across a variety of different channels. It measures things like the presence and growth of a brand online (e.g. social media) and offline (e.g. grocery stores) and it provides a top down time-series view of consumer reach. This can be helpful in seeing how a brand's reach has changed over time or how that reach compares to competitors or legacy category leaders. The CRI indexes values in a similar way to Google Trends. A value of 1 is the peak point of reach in a brand's history or the peak point of all measured values if more than one brand is included on the index. The CRI allows you to look at a company's past performance and compare different trends. Let's explore a few examples of the CRI in action.
1. The Rise of Halo Top
The below analysis looks at the rise of Halo Top, a low-calorie, high-protein ice cream, compared to what was originally a competitor-Arctic Zero. The major events corresponding with each company's growth in consumer reach are annotated to provide additional detail.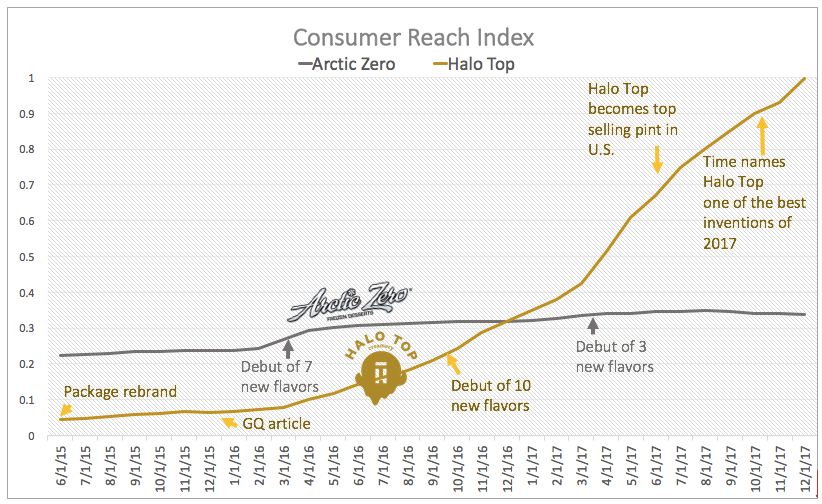 Back in mid 2015, Halo Top had a much lower consumer reach than Arctic Zero, but a package rebrand and great publicity from a GQ article allowed Halo Top to begin to garner more attention. The timely release of new flavors also helped, and by the end of 2016, the brand's consumer reach had caught up to Arctic Zero. Halo Top has been on a tear since then and July 2017 it became the best selling pint of ice cream in the country.
2. Siggi's Growth is Rapid With a Long Runway
Two weeks ago, after the announcement of Siggi's sale to French dairy giant Lactalis, we released a piece about Siggi's that looked at the brand's growth over the past several years. The consumer reach of Siggi's has more than doubled over the past 2 ½ years, as seen below.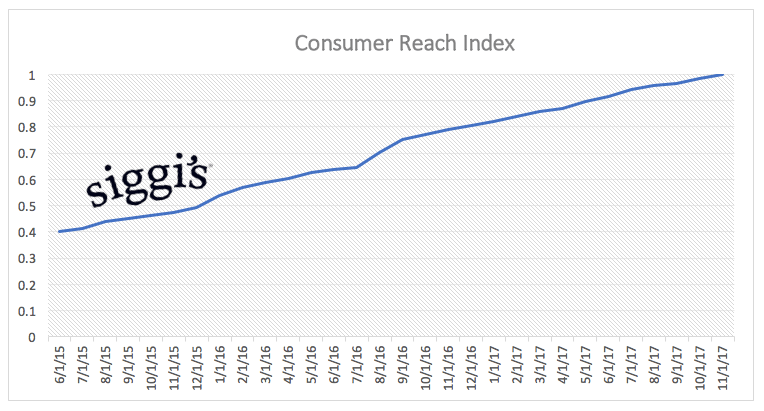 Despite this growth, Siggi's still only has about ¼ the consumer reach of yogurt giants like Yoplait or Chobani, indicating the brand has a lot of runway for further growth, especially with the added distribution power that Lactalis brings to the table.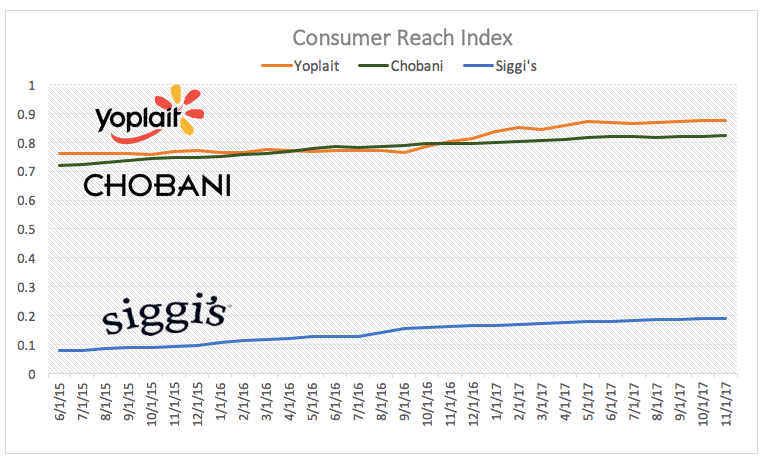 3.
Sustainable Seafood Hasn't Had the Same Momentum as Plant-Based Meat
There's no question the sustainable trend has had the wind in its sails over the past several years. Plant-based meat companies like Beyond Meat proudly proclaim the sustainable benefits of their product on their website, and the message is resonating strongly with consumers. Unfortunately, upstart sustainable seafood companies haven't been able to capitalize on the sustainable movement in quite the same way. The below CRI compares a few prominent emerging sustainable seafood brands to plant-based meat star-Beyond Meat and an incumbent in the seafood space.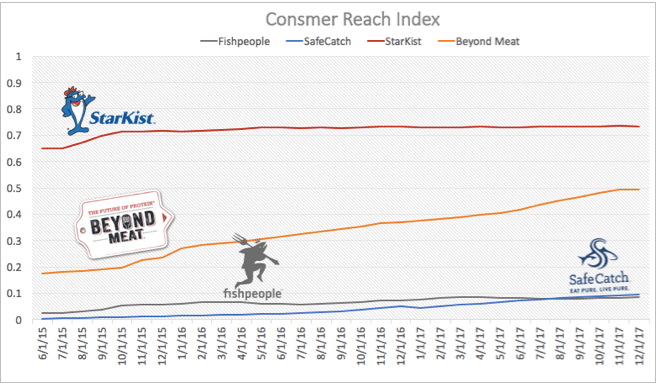 The growth of Fishpeople and SafeCatch pales in comparison to that of Beyond Meat during the same time period. Part of the lackluster growth may be due to the fact that consumers aren't exactly sure what sustainable seafood is. A consumer inherently understands what plant-based meat is, but figuring out what constitutes overfishing is less intuitive. No clear definition exists- even big incumbents like StarKist claim they're sustainable, which makes it harder for upstart brands to differentiate.
More to Come
At a time when CPG is seeing tailwinds of innovation and small brands are stealing market share from legacy players at a rapid rate, the CRI is an objective, data-driven snapshot into a brand's growth. The three use cases explored above demonstrate the types of questions the CRI can help us answer. We can look at interesting companies on either an overall brand or specific product level, and see comparisons against others in the category (or outside the category). Stay tuned for future research using the CRI to shed light on the consumer sector.
By understanding how these trends will impact the CPG landscape, you can position your business for success.
To learn more about Helio or get in touch, visit heliodata.com.