This post originally appeared in Forbes.
This marks the sixth year of CircleUp25, our awards recognizing some of the most innovative consumer and retail brands of the year.
CircleUp25 is decided on by our expert judges and Helio, our machine learning platform that identifies, classifies, and evaluates 1.4 million brands. This year saw fierce competition across a number of categories which should come as no surprise to anyone who knows the sector. The finalists and winners produce a number of indicators about where innovation in consumer is heading. In addition to crowning the finalists, we're excited to dive into some of the data which underscores why these are the next generation of innovative consumer and retail brands––keep in mind it is just a sampling!
But first, we want to review the selection process and methodology. As with last year, we announced the awards and allowed brands to submit themselves or be nominated by their peers. Following the call for nominations, we reviewed all companies via Helio to better understand each nominee and check for relevancy. After separating the nominees by category to ensure representation across the multi-faceted consumer industry, the judges voted independently to determine the finalists. Since launching in 2012, CircleUp has worked with more than 300 brands in the consumer industry and we would like to call out here that after much deliberation and in keeping with the spirit of Forbes we chose not to include companies that have received an investment from one of CircleUp's equity funds.
So without further ado, we bring you this year's class of the 25 Most Innovative Brands in Consumer and Retail:
---
Ancient Nutrition | Palm Beach, FL

Founding Team: Jordan Rubin, Josh Axe

Investors: VMG Partners, Hillhouse Capital
Why? Ancient Nutrition sits at the heart of the booming wellness and supplements industry. On a mission to bring whole food nutritional products to the modern consumer, the company pioneered all natural and easy-to-digest pure bone broth protein powders and in March announced $103 million in funding from over 100 investors.
---
Beyond Meat | El Segundo, CA

Founding Team: Ethan Brown

Investors: Kleiner Perkins, Humane Society of the United States, Tyson Foods
Insight: A star with our judges, Beyond Meat makes 100% plant-based products that look, cook & taste like meat, without sacrificing on taste or juicy satisfaction. Helio surfaced Beyond Meat as the company with the strongest brand score of companies tracked in the meat and seafood alternatives category. The brand has great distribution and has seen significant yearly growth in door count.
Distribution and Brand Score for Meat and Seafood Alternatives Companies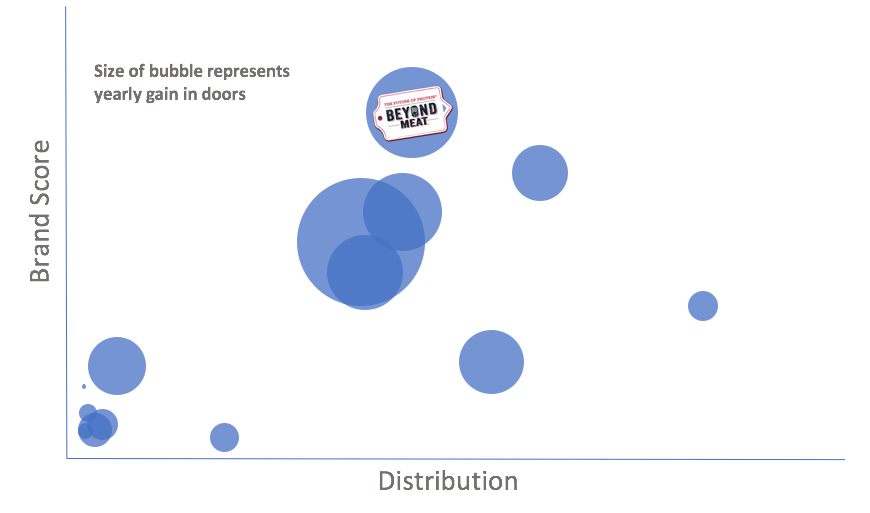 ---
Boochcraft | San Diego, CA
Founding Team: Adam Hiner, Andrew Clark, Todd Kent,
Investors: N/A
Why? At 7% ABV, Boochcraft took inspiration from the craft beer industry to make California's first high-alcohol content kombucha. The drink is organic, handcrafted, non-GMO, locally sourced, gluten-free, and fluoride- and chlorine-free, and provides all of the health benefits found in regular kombucha. According to the company, it will give you "the happiest buzz on Earth" – who can complain with that?
---
Brandless | San Francisco, CA
Founding Team: Ido Leffler, Tina Sharkey
Investors: SoftBank, New Enterprise Associates, Red Point Ventures, Slow Ventures
Why? Pitched as the "Procter & Gamble for millennials," this cult-favorite burst onto the scene last July for cutting out hidden middleman markups for home supplies. The site now has around 300 types of own brand goods—triple the number of items at launch––and recently launched its own clean beauty collection.
---
Brew Dr. Kombucha | Portland, OR
Founding Team: Matt Thomas
Investors: Castanea Partners, Townshend Tea
Why? Did you know that kombucha takes up to one-third of the refrigerated functional-beverage shelf space in Whole Foods? With a market that is projected to reach $1.8 billion by 2020, Brew Dr. Kombucha takes an innovative approach by removing the alcohol without the use of heat, preserving the beverage's health benefits and live, active cultures.
---
Caulipower | Studio City, CA
Founding Team: Gail Becker
Investors: Boulder Food Group
Why? In a world that loves to snack or dig into a yummy pizza, Caulipower makes better-for-you favorites without the guilt. Leading an all new grocery category, the company makes convenient pizzas that taste like conventional recipes and are easy for any family to enjoy. Since launching in 2017, Caulipower has quickly become the fastest growing frozen pizza brand in the U.S. and the #1 gluten-free pizza. A year ago the brand had almost no offline distribution, but here, Helio shows today how in the course of a year, the brand has grown quickly spread to major distribution areas across the country.
Caulipower Major Distribution Areas (July 2018)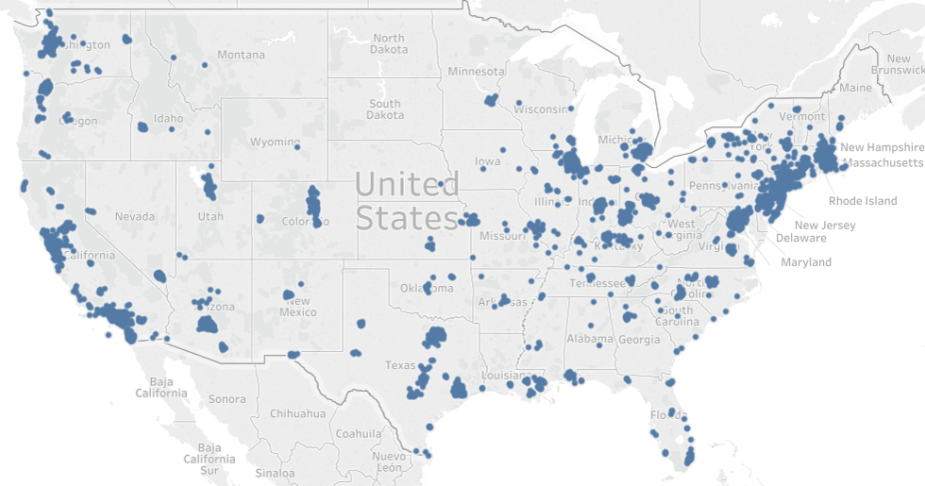 ---
Cece's Veggie Noodle Co. | Austin, TX
Founding Team: Mason Arnold
Investors: Encore Consumer Capital
Why? Cece's Veggie Noodle Co. has pioneered the first pre-packaged USDA organic spiralized vegetables available in Zucchini, Sweet Potato, Butternut and Beet. Their spiral noodles are made from 100% fresh vegetables and are a healthy alternative to grain-based noodles. As the company puts it, "simple, but twisted".
---
Credo Beauty | San Francisco, CA
Founding Team: Annie Jackson, Shashi Batra
Investors: NextWorld Evergreen
Insight: In a health and beauty industry often dominated by products with toxic and dubious ingredients, Credo makes a point of only stocking clean label health and beauty products. In fact, the clean labels of many of this year's winners stood out to us in Helio.

---
Daily Harvest | New York, NY
Founding Team: Rachel Drori
Investors: Lightspeed Ventures, VMG Partners
Why? Daily Harvest is bringing farm-frozen ingredients in pre-portioned, no-cook recipes to your doorstep. The smoothie ingredient delivery service helping people get regular servings of their fruits and veggies.
---
Farmhouse Culture | Watsonville, CA
Founding Team: Kathryn Lukas
Investors: 301 INC, Renewal Funds
Why? Farmhouse Culture is a leader in its category for making probiotic-rich foods and beverages. Originally founded as a line of Krauts, the company has since expanded to include four varieties of fermented vegetables, a probiotic drink line, and Kraut Krisps, a line of kraut-based snacks.
---
Four Sigmatic | Santa Monica, CA
Founding Team: Tero Isokauppila
Investors: Accel Foods, Able Partners
Why? Medicinal mushrooms have been on several lists as a trend to watch in 2018 and the global mushroom market is expected to hit $50 billion dollars within the next 5 years. Voted highly by our judges, Four Sigmatic makes drinking mushrooms easy-to-do with their variety of superfood beverages.
---
Herbivore Botanicals | Seattle, WA
Founding Team: Julia Wills, Alex Kummerow
Investors: N/A
Why? Since co-founders Julia Wills and Alex Kummerow started Herbivore Botanicals in 2011 out of their kitchen, the brand has gone from being sold at farmer's markets and on Etsy, to becoming a direct-to-consumer powerhouse that is now widely available at the likes of Sephora and Space.NK in the UK. With a newly launched Prism Exfoliating Glow Potion, this cult favorite natural beauty company shows no signs of slowing down.
---
Health Warrior | Richmond, VA
Founding Team: Daniel Gluck, Nick Morris, Shane Emmett
Investors: VMG Partners, NRV
Why? Health Warrior is a fast-growing natural food companies in the U.S. The company makes "super snack" Chia Bars—the only bar with chia seeds as the #1 ingredient—and Superfood Protein Bars—packed with 10g plant protein from chia, quinoa, oats, and peas. They are on a mission to inspire healthy diet and exercise habits and to deliver superfoods – the most nutrient-dense foods on the plant – in convenient form to power everything that you do.
---
hims | San Francisco, CA
Founding Team: Andrew Dudum, Jack Abraham
Investors: Institutional Venture Partners, Forerunner Ventures, Thrive Capital, Redpoint Ventures, Maverick Ventures, Atomic
Why? Launched in November, hims is a one-stop shop for men's wellness and personal care. As the latest direct-to-consumer darling, hims follows in the footsteps of DTC brands like Casper and Warby Parker that have skyrocketed to success with their quirky and approachable branding. According to CEO Andrew Dudum, the company has ambitions to build a full-service prescription medicine brand for men of all ages and backgrounds.
---
LOLA | New York, NY
Founding Team: Alexandra Friedman, Jordana Kier
Investors: Lerer Hippeau, Spark Capital, Alliance Consumer Growth
Insight: LOLA is challenging the lack of transparency in feminine hygiene with 100% organic cotton tampons. In a world where many brands start are now starting out as direct to consumer, it's important to be able to measure signals that a brand is heating up online. Helio pinpointed Lola as having significant monthly web traffic and noticeable increases in that traffic over the past 6 months compared to other brands in the feminine care category.
Zoom in of web traffic for feminine care brands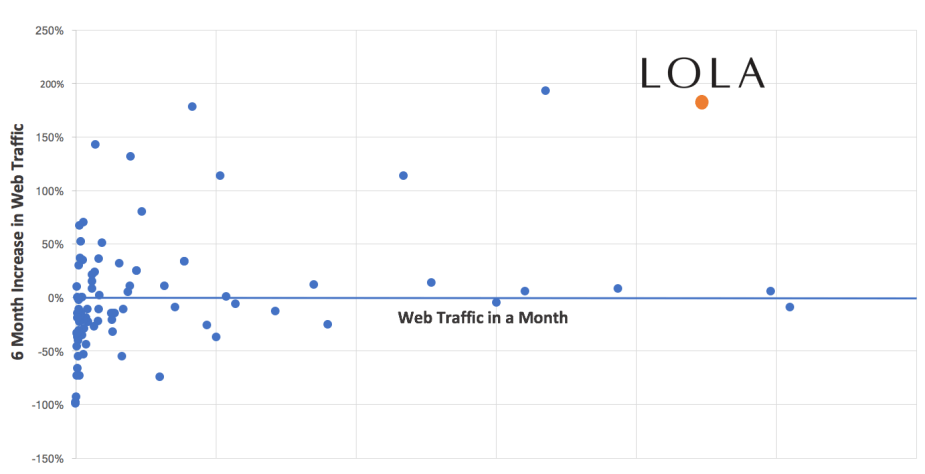 ---
MM.LaFleur | New York, NY
Founding Team: Miyako Nakamura, Narie Foster, Sarah LaFleur
Investors: Grace Beauty Capital, 645 Ventures
Why? The wardrobe solution for professional women. MM.LaFleur creates luxury apparel and accessories with the same attention to detail as a high-end fashion house. Their clothes are designed and made for the everyday woman on the go.
---
Naadam Cashmere | New York, NY
Founding Team: Matt Scanlan, Diederik Rijsemus, Hadas Saar
Investors: Torch Capital, Vanterra Capital, Plug and Play
Why? For disrupting the cashmere industry. By cutting out the middleman and purchasing directly from herders, Naadam responsibly sources & produces luxury knitwear while preserving the nomadic lifestyle in Mongolia.
---
Once Upon a Farm | San Diego, CA
Founding Team: Ari Raz, Cassandra Curtis, Jennifer Garner, John Foraker
Investors: Cambridge Companies, Beechwood Capital
Helio Insight: From the farm to the fridge, not the shelf, Once Upon a Farm delivers cold-pressed and nutritious baby food. Each ingredient used is sustainably grown, certified USDA Organic, Non-GMO Project Verified, and can be traced right back to the source. Helio tagged that all of Once Upon a Farm's ingredients are organic, compared to just over half for the baby food category as a whole.
---
Rothys | San Francisco, CA
Founding Team: Roth Martin, Stephen Hawthornthwaite
Investors: Lightspeed Ventures
Insight: It's clear that being mission-aligned has propelled this year's list of consumer brands to success. Rothy's, which are made from recycled water bottles once destined for the landfill, has catapulted into the spotlight.
---
Spindrift | Charlestown, MA
Founding Team: Bill Creelman
Investors: VMG Partners, Prolog Ventures
Why? Spindrift is America's first and only sparkling beverages made with real, fresh squeezed fruit.
---
ThirdLove | San Francisco, CA
Founding Team: Heidi Zak, David Spector
Investors: New Enterprise Associates, L Catterton
Why? For challenging the reign of Victoria Secret. ThirdLove was the first bra and underwear brand to offer half cup sizing and a mobile app that allows women to measure themselves at home. The company now offers 70 bra sizes and takes the hassle out of shopping with a 100% fit guarantee. Helio flagged the strong ways in which ThirdLove's brand is resonating with its consumers across a variety of factors.
ThirdLove Brand Elements

---
Urban Remedy | Richmond, CA
Founding Team: Neka Pasquale
Investors: 301 Inc, Slow Ventures, Beechwood Capital
Why? Urban Remedy is a plant-based organic food company that embodies the belief that Food is Healing. The company makes ready-to-eat, certified organic salads, bowls, wraps, snacks, desserts, juices, nut milks, and shakes delivered to your door.
---
Vital Proteins | Chicago, IL
Founding Team: Kurt Seidensticker
Investors: CAVU Venture Partners
Why? Collagen peptides are here to stay. Sourced from pasture-raised cows in Brazil and New Zealand and wild-caught fish in Hawaii, Vital Proteins is making collagen accessible with their colorful branding and availability on the shelves of Whole Foods and Anthropologie's latest wellness shop.
---
Vive Organic | Venice, CA
Founding Team: Wyatt Taubman, Kyle Withycombe, JR Simich
Investors: N/A
Why? Vive Organic packs the highest quality ingredients into Wellness Shots to deliver the closest possible match to a living plant. Their shots are cold pressed––not heated––made without artificial colors or sweeteners––not even honey, stevia, or sugar––and certified USDA Organic, Kosher, and Non-GMO.
---
Youth to the People | Los Angeles, CA
Founding Team: Greg Gonzalez, Joe Cloyes
Investors: Strand Equity Partners
Why? Youth to the People was founded on the principle that the products we put on our skin should be as whole, clean and packed with nutrients as the best foods we eat. That's why their products combine superfoods, adaptogens, and science. Youth to the People is the best of plant-based skincare.
---
A big thank you to our judges for the time and effort they put into voting on this year's finalists! And a big thanks to the CircleUp25 winners, the nominees, and the countless other consumer entrepreneurs out there who help make this sector great.
In the coming weeks, we'll be posting more data deep dives into some of the companies and categories surfaced here. Stay tuned for more!
Disclaimer:
This year, all emerging consumer companies who have raised on CircleUp were eligible for the award. In accordance with Forbes contributor standards and to avoid bias, companies who received an investment from one of CircleUp's equity funds were excluded from consideration. None of CircleUp's equity funds participated in the selection process.
Helio is CircleUp's machine-learning platform that identifies, classifies, and evaluates 1.4 million brands. The data presented here is derived from a variety of proprietary, public and partnership sources and includes data from one of our partners Nielsen.
By understanding how these trends will impact the CPG landscape, you can position your business for success.
To learn more about Helio or get in touch, visit heliodata.com.