By William Dowling and Samara Flug
Looking at the ingredients of Youth to the People's moisture cream or their face oil can feel a bit like staring up at the menu of a smoothie bar. The Superberry Hydrating oil, made up of maqui berry, acai, prickly pear and goji, sounds refreshingly sweet while the kale and spinach green tea moisture cream can make you feel healthier just looking at it. Then there is Herbivore Botanicals with their coconut rose body polish and brightening mask with pineapple and papaya that sound like something you'd eat for breakfast.
But before we get distracted by these delicious adjectives and ingredients, it's worth asking why products from three of our CircleUp25 winners in the beauty & personal care category resemble smoothie ingredients more than skincare products?
Skin, the human body's largest organ, is a subject of growing attention for consumers as we've become increasingly educated on the benefits of clean ingredients in personal care products and acutely aware of the potential risks of absorbing unregulated chemicals. With a heightened awareness around the impact of potentially harmful chemicals comes the realization that what we put on our bodies is just as important as what we put in them.
In this analysis, we will focus on two clean label skins brands on this year's list of CircleUp25 winners- Youth to the People and Herbivore- and a marketplace that gives consumers access to these types of brands- Credo . All three of these companies stood out to our judges and to our machine learning platform Helio in powerful ways, which is important given just how crowded the skin care sector is. Helio tracks 10,205 unique skin care brands headquartered across North America, as showcased in the map below:
Helio Location Analysis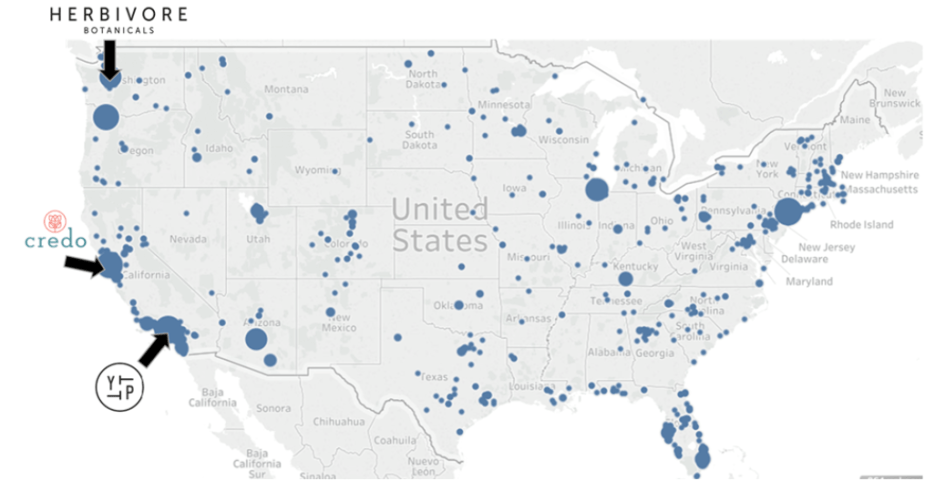 So what made these three companies stand out to us, our judges, and Helio when there is such fierce competition in the sector? Let's start by analyzing the two skin care brands.
The Ingredients Maketh the Brand
Helio's brand model flagged the brand strength of both Herbivore and Youth to the People based on features including the size of their followings on social media, how often they share content, consumer engagement with that content, and the rate of growth of followers. Both companies ranked in the top 10% for brand among the 10,205 brands captured in the skin care category and scored very well across the various subscores that comprise the overall band score. With a category average of 5, Herbivore and Youth to the People scores are significantly higher than competitors:
Helio Brand Scores

The strength of these scores is evident through each brand's followers on social media and the communities that have rallied around their products. Both brands receive Instagram comments from fans eager to share their excitement about a product launch or their reaction to samples they are about to order full size. On Youtube, influencers and video bloggers note the natural and clean ingredients of Herbivore and Youth to the People as a key compelling feature of the brand as they are excited to show off and speak about the products.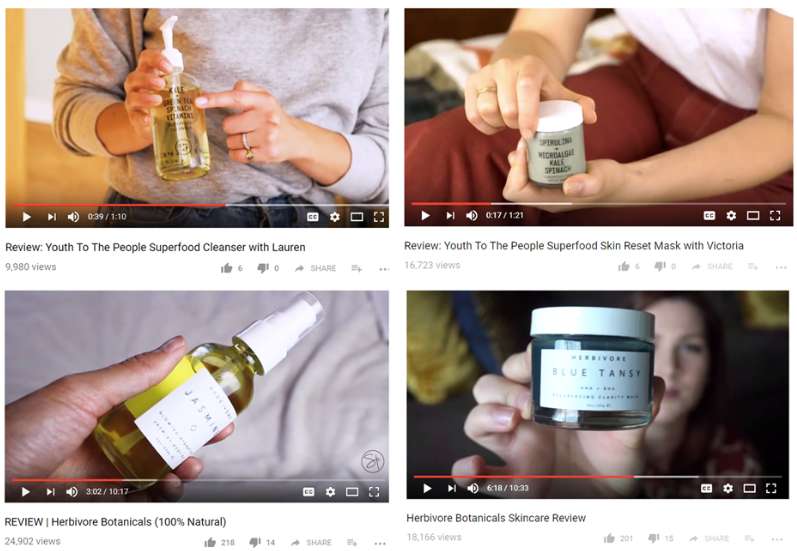 The strength and utility of Helio lies in our ability to analyze and compare these comments and reviews at scale across and within a category. For an empirical sense of how these product attributes resonate, we performed a textual analysis of consumer product reviews. Terms describing the " all natural " and " clean " nature of ingredient s surfaced in many reviews written for both Herbivore and Youth to the People. In fact, 22% of consumers mentioned the ingredients of Youth to the People in a positive context in their reviews of products and 15.3% of consumers mentioned Herbivore's ingredients during reviews. Contrast this to the 5.3% of consumers who mentioned CeraVe's ingredients in reviews:
Percentage of Consumers that Mention Ingredients in a Positive Context in Reviews

The clean label value propositions of Herbivore and Youth to the People are clearly important to consumers, tied to their positive experiences and engagement with the brand. It is evident in consumer sentiment and even more apparent when you look at the ingredient labels of the products themselves. Helio's product model allows us to examine the ingredients of both individual products and entire categories at scale to help determine how a product or brand is different or similar to its competitors. With Helio, we can run this analysis for hundreds or thousands of products in a matter of seconds. First, we'll explore the ingredients of individual products from Youth to the People and Herbivore and then we'll scale up and apply the product model to hundreds of healthy and beauty products from entire retailers to showcase the clean label value proposition of Credo.
In the analysis below, we married ingredient data with toxicity ratings from the Environmental Working Group. For the sake of simplicity, we isolated comparable moisturizers from each brand's product suite:
Ingredient Analysis



While Herbivore's Pink Cloud shown above or Glow Potion might sound mysterious in nature, these products are not mystical concoctions of ingredients you can't pronounce; instead, they consist of all natural ingredients like aloe vera leaf juice, rose water, apple extract, aspen bark, and plum and bilberry extracts that sound good enough to eat.
A Market for All Things Clean
Credo Beauty's response to the range of potentially harmful ingredients in personal care products lies in their mission to raise the bar for the industry by setting the highest safety and sustainability standard in beauty retail. With their list of Dirty Ingredients core to their product standards, Credo was founded as a platform for clean products and has quickly become a leading authority on clean beauty since Shashi Batra and Annie Jackson founded the concept in 2014.
Through Helio, we can see how crowded the traditional cosmetics realm is with ingredients we can't pronounce or have come to understand as toxic, such as propylparaben or the often ambiguous "fragrance" label that might mask potentially harmful components. For consumers, reading these labels while shopping can be overwhelming but made simpler and easier to digest through data. Using the product model, we looked at the ingredient labels for hundreds of products sold across retailers, Credo's product offering stands out in stark contrast to that of traditional retailers.
Analysis of 15 Most Common Health and Beauty Ingredients by Retailer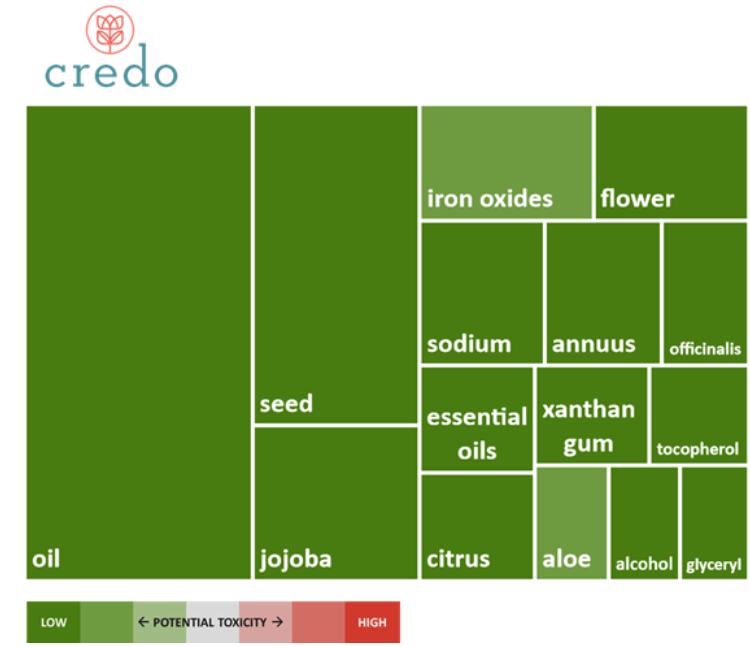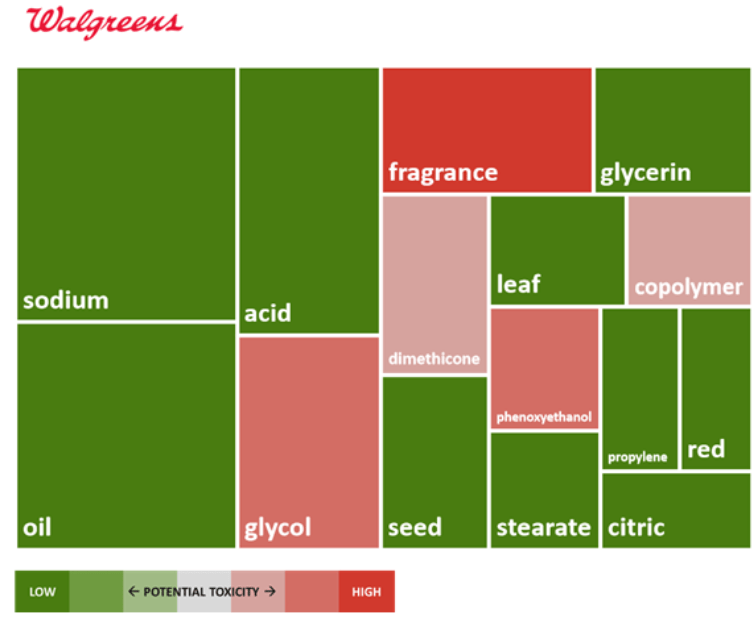 Relative size of ingredient represents frequency of appearance in products sold per retailer while color represents potential toxicity of each ingredient according to the Environmental Working Group
In aggregate, the difference between the ingredient sets are clear with oil, seeds, essential oils, and flowers appearing more frequently in Credo-sold products, and potentially toxic ingredients coming through clearly in retailers like Walgreens. Through a rigorous examination process conducted by their Clean Beauty Council , Credo ensures that consumers have a place to explore and discover products without having to navigate opaque product labels or cut through the noise of ambiguously labeled ingredients.
Celebrating CircleUp25 through the power of Helio
With beauty editors, influencers, celebrities, and consumers obsessing over clean beauty labels, ingredient transparency will continue to be at the forefront of buzz in the industry with a once-revolutionary standard now table stakes. In time, the pressure may come not only from consumers and their purchasing power but through proposed legislation to include the review of ingredients and subsequent regulation over cosmetics under the FDA. No matter where or how the demand for clean comes from, the innovation of brands like Herbivore, Youth to the People, and Credo will continue propel the industry forward into cleaner waters.
With Helio, we can begin to piece apart how and why these brands resonate in our celebration of innovation across the sector and demonstrate why data is so powerful in navigating an industry like this one. For more information, please feel free reach out to insights@circleup.com .
By understanding how these trends will impact the CPG landscape, you can position your business for success.
To learn more about Helio or get in touch, visit heliodata.com.