I attended graduate school across the pond in England. In addition to quickly picking up on the differences between American and British humor, Californian vs English weather, and left vs right side of the road, another difference I noticed during my time abroad was how much more prolific cider is in the UK than it is in the US. You can't walk into a British pub without seeing half a dozen varieties of cider on tap, many of which are local ciders that vary by region. Historically, Americans have not had access to this same variety (this was not the case before prohibition but that's a blog for another day). Over the past few years, this has started to change and change rapidly. Craft cideries have been popping up all over the country and have seen tremendous success even in a broader category where recent growth has been lackluster. The interesting question for investors is whether or not these craft cideries pose attractive opportunities. In this post, we'll take a data-driven look at the rise of craft cideries and explore some hurdles these cideries face in the road ahead.
The Rise of Craft
Paralleling the surge of craft breweries over the last decade, craft ciders have begun to take off. In the past few years, the number of cider makers in the US has doubled, from 400 to 800. We used our machine learning platform Helio to plot those that had clearly identified headquarter locations, and as seen below, the dispersion is quite diverse, meaning that you can enjoy a good local cider in many parts of the country.
Major Craft Cider Headquarters in US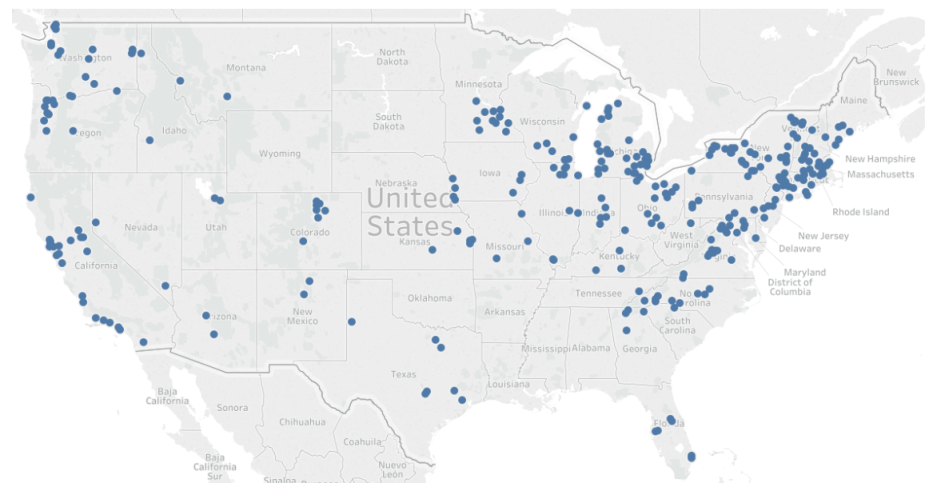 Similar to craft beers, craft ciders have seen impressive success even in a broader category where sales have flatlined. In 2017, regional ciders made up 25% of the overall cider market while ciders from big breweries like Heineken and Miller Coors made up the rest. Even though overall off-premise (sold outside of bar setting) cider sales fell from a high of $536 million in 2015 to $470 million in 2017, regional ciders have seen double digit sales growth in recent years – 41% in 2016 and 30% in 2017. Big cider makers still reign king, but they're losing their dominance.
To underscore this, we looked at a few big cider brands and a few small but growing craft ciders on our Consumer Reach Index. The CRI measures how likely a consumer is to encounter a brand when browsing on social media or walking through the grocery store.
Ciders on the Consumer Reach Index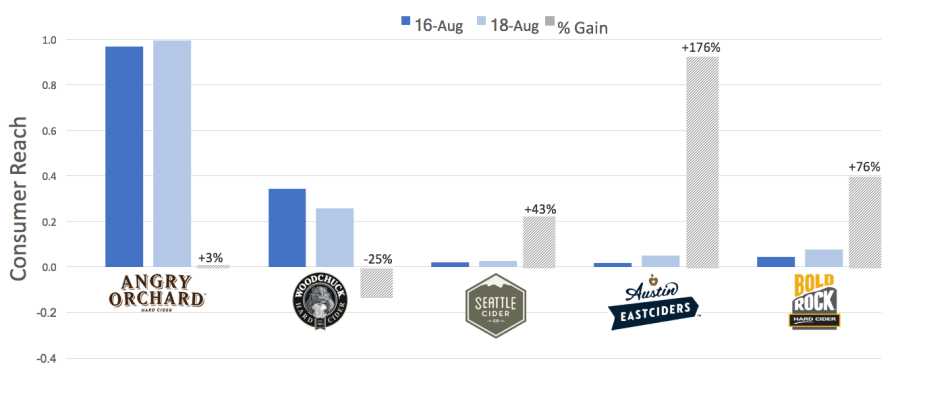 Although brands like Angry Orchard and Woodchuck still have much higher consumer reach than more regional cider brands like Seattle Cider Company or Bold Rock, looking at the percent change in reach over the past two years tells a different story. CRI growth has essentially flatlined for Angry Orchard (almost all the 3% growth for the brand has come from a growth in social media followers not a growth in doors) and Woodchuck has seen a 25% decline in reach. Contrast that to the three regional cider brands that have all seen double or triple digit growth in consumer reach.
What's contributing to this divide? Big brand ciders tend to be chalk full of sugars (Angry Orchard has 20 grams of sugar in a 12oz bottle), whereas many craft ciders contain very little sugar, if any at all. As Americans become increasingly cognizant of their sugar and calorie count, craft cider is an attractive option. Craft ciders are also able to capitalize on growing consumer demand for smaller, more local products. Small cideries use a wide variety of local apples to make their products, resulting in a taste that is unique to a region or apple variety.
We performed text analytics for five ciders from the brands explored above to see what adjectives consumers use most often to describe each brand's ciders.
Adjectives Used to Describe Ciders in Consumer Reviews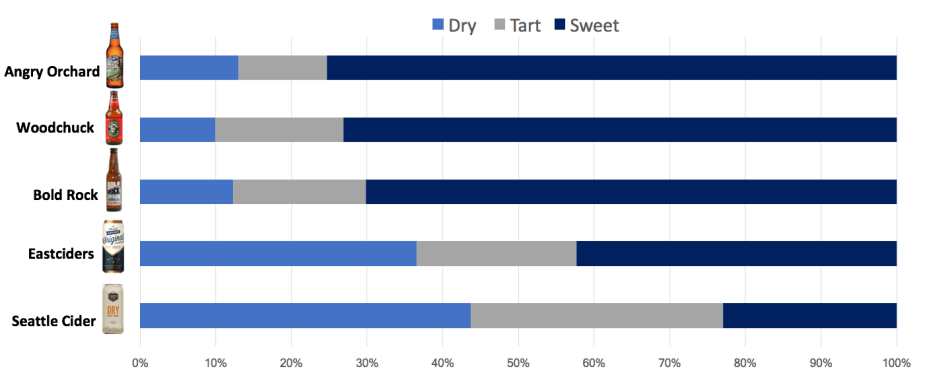 As can be seen, the ciders from Angry Orchard and Woodchuck have very similar flavor profiles with the vast majority of consumers using adjectives that have to do with the sweetness of the drink. Contrast that to Austin Eastciders and Seattle Cider where consumers are more likely to comment on the product being dry. That's not to say that a craft cider has to be dry or that there isn't a market for sweeter varieties. Afterall, the cider from Bold Rock has almost as large a percentage of consumers commenting on the sweetness of the beverage as does Angry Orchard or Woodchuck. What the data does show is that there is a market and desire for ciders with a wide variety of flavor profiles.
The Core Problem for Craft Ciders is Recognition
Given the rise of these smaller brands and the proliferation of craft beers, it's worth asking why we don't hear more about craft ciders? I think there are a few reasons. Firstly, despite recent growth, there are only 800 craft cideries in the US compared to over 5,000 microbreweries, so some of this is accounted for by the sheer size difference of the sectors. While cider sales have been growing rapidly over the past decade, they still amount to around just 2% of beer sales. Another issue is that of terminology. The very term "craft cider" hasn't really gone mainstream in the US and people search for craft beer 50 times more frequently than craft cider.
Median Number of Followers for Brand on Social Media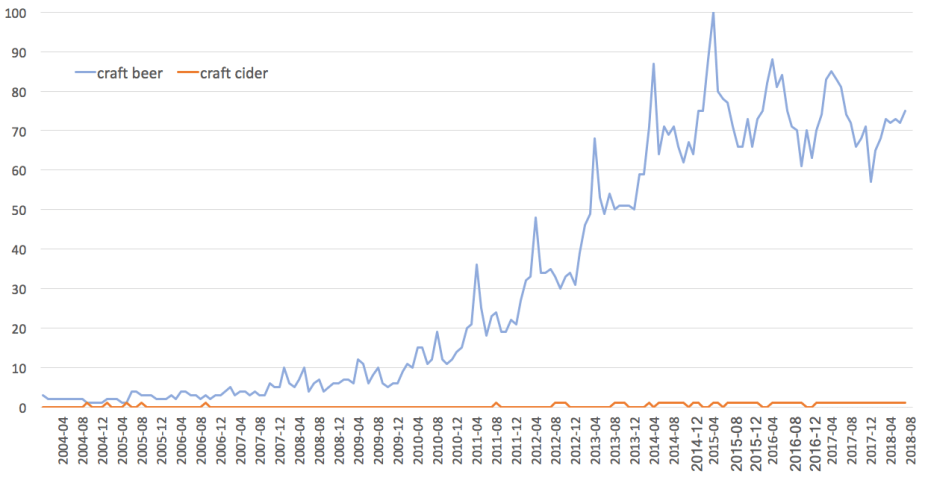 This lack of familiarity goes beyond just what people Google. A survey conducted by Angry Orchard found that 37% of adults are unable to name a single cider brand. Of those who could name a brand, 9.3% named Angry Orchard and 6.9% named Mike's Hard Lemonade- which, as the name implies, is not a cider.
With this lack of recognition, cider brands are not able to garner the same level of following on social media compared to breweries, as seen below. Although they're on par with spirits and above wines, they still attract a noticeably smaller following than beer brands, which are the closest comparison.
Median Number of Followers for Brand on Social Media

Despite these issues, progress is being made on the recognition front. Cider festivals are popping up all over the country and organizations like Cider in Love, launched earlier this summer, are helping to educate consumers about different types of ciders and connect cider makers to markets.
Where Do We Go From Here
I think the appeal of craft ciders will continue to grow. They capture the tail winds of consumer desire for artisanal, small batch alcoholic beverages that are also healthier than mainstream alternatives. There is evidence that the sales of big cider brands have leveled off, but even if they continue to decline, I don't anticipate this will have a negative impact on craft cider sales. If anything, as more people become aware of craft ciders, local brands may be able to capture the market share that big ciders are losing.
An interesting question from an investor standpoint is whether or not these ciders will begin to be acquisition targets for strategics. I think yes. Many big breweries also own cider brands (e.g. Angry Orchard is owned by Boston Beer Company and Strongbow is owned by Heineken). Big Beer is clearly aware of the appeal of ciders but also of the recent performance issues of their cider brands. Given the M&A bonanza that has been underway for craft breweries, Big Beer has proven they are willing to pay handsomely for innovation they can't create themselves. If they end up snapping up craft cideries, their large distribution networks and marketing budgets can help local ciders overcome recognition problems and gain better distribution. Another lesson from the fast-paced M&A activity around craft breweries is that consumers don't really know or care when Big Beer acquires a craft brand- they still consider the brand craft. Look no further than Goose Island (ABinBev) or Magic Hat (North American Breweries) to see this dynamic at play. Some craft brew purists decry what they see as wolves in sheeps clothing, but they tend to be small voices in the crowd. Investors don't have to lose too much sleep worrying that craft ciders risk losing the appeal of authenticity if acquired by strategics. We haven't seen that happen much in craft beer and I don't believe we'll see it happen here.
As the interest in more regional, hand-crafted products continues to grow, the future looks bright for local cideries and for investors interested in getting involved at the early-stage.
By understanding how these trends will impact the CPG landscape, you can position your business for success.
To learn more about Helio or get in touch, visit heliodata.com.