Decoding General Merchandise Sales and Price Data with Trend and Attribute Data from The Broader CPG Company Ecosystem
What is General Merchandise?
"General merchandise" or "general line of merchandise" refers to merchandise not limited to a specific retail or wholesale category. Retail goods fall into two broad classifications, based on the perishability of the item, with perishable items falling under the term "grocery" and everything else falling under "general merchandise".
Many smaller retailers, such as general stores, corner stores, or bodegas address this category of retail, but much of the retail world is actually classified under "general merchandise", and then may fall under additional subdivisions of the category. In fact, big box stores, such as Walmart and Target, are technically general merchandise, despite their more recent entrance into the grocery space. E-tailers and delivery services such as Instacart, GoPuff, and Mercato, dedicate a portion of their virtual shelf space to general merchandise as well. Additional retailer categories selling general merchandise include discount stores, specialty stores, factory outlet stores, and department stores.
Understanding General Merchandise Purchasing Trends
Today, with CPG retail categories and business models blurring and consumers' share of shopping cart becoming more fragmented, it is increasingly common to see a more even mix of general merchandise and grocery competing for the same shelf space. In fact, the North American Industry Classification (NAICS) classification, now defines "General Merchandise Stores" as a subsector that comprises establishments primarily engaged in retailing a general line of merchandise", that may, or may not, "include a general line of grocery items."In 2022, grocery accounted for 56% of Walmart's U.S. net sales vs. 32% from general merchandise. Even in a grocery store like Kroger, general merchandise can be a significant category. For instance, in 2017 Kroger reported non-grocery sales amounting to more than 20 percent of its revenue.
Because of the very broad nature of general merchandise, and the limited nature of shelf space, everyone from retailers and wholesalers, to mom-and-pop shops and big box chain stores, must make tough choices, often multiple seasons in advance, about what lines of merchandise to stock, or what to feature on in-demand end cap displays.
In particular, doubling down on specific in-demand categories, based on your geography, clientele, or nearby competition can be a winning strategy for smaller retailers looking to compete against giant chain stores.
COVID-19's Impact on General Merchandise Trends
There are a range of strategies for general merchandise planning. Historically, many store owners and category managers looked to historic data and seasonality, stocking beach gear in warmer months, kitchen gadgets as Thanksgiving approached, etc., to adjust their mix of general merchandise.
However, for many over the past two years, these approaches fell to the wayside in favor of reading news headlines in the face of COVID-19. At the start of the pandemic, many retailers dedicated more shelf space to cleaning and sanitizing products, as well as immunity boosting vitamins and supplements. As face-to-face social interaction resumed, chains such as TA/Petro responded with more shelf space dedicated to grooming products—people were shaving their work-from-home beards and putting on makeup again.
Supply chain issues, COVID-related and otherwise, also broadened the factors that category managers needed to consider. Would the glue used to seal packaging for a particular product become unavailable and slow delivery? Would prices rise unpredictably in a particular category?
Curious about price volatility in particular after hearing many related questions from our customers, we used Helio, our data tool which provides a universal market view of the CPG space, to measure changes in price by category over the past two years at major offline and online retailers. Tellingly, the data is confusing, reflective of a highly volatile, complex, and ambiguous market. A general pattern of price increases occurring across most categories is visible, with great variance and little predictability. Noteworthy for the general merchandise category is the relatively high change in price for the subcategory of household durables in recent months, both in-store and online.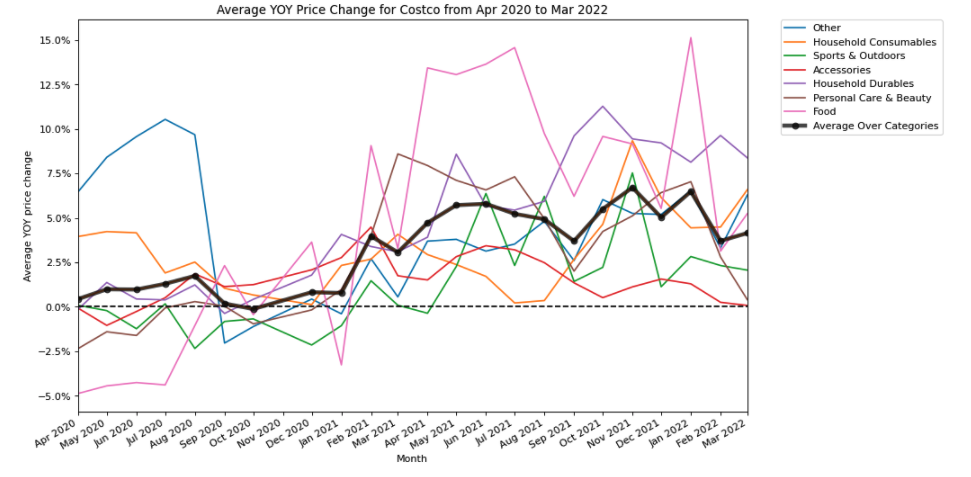 Costco price changes by category from April 2020 to March 2022.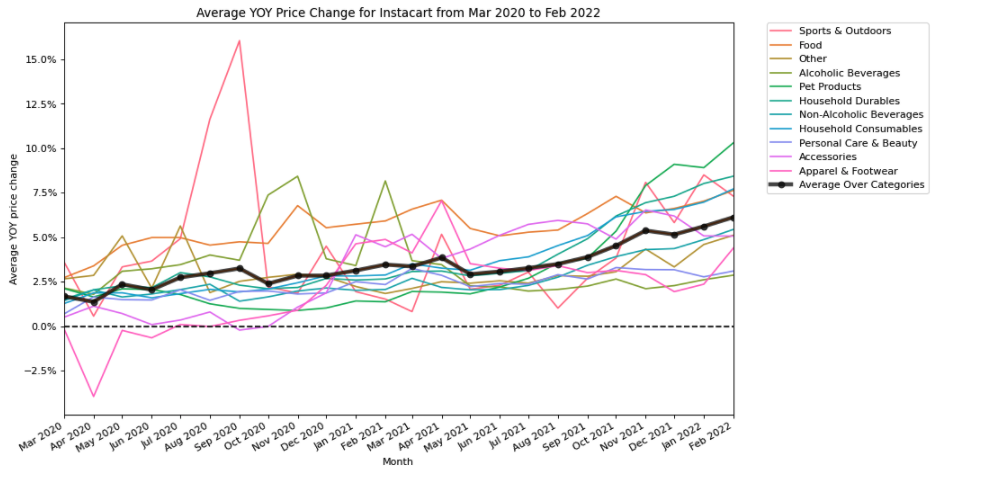 Instacart price changes by category from March 2020 to February 2022.
Comparing categories or looking at specific retailers in isolation, or even in combination does not paint a meaningful or predictive picture of general merchandise supply and demand.
Future proofing buying strategies in the face of volatility and uncertainty, as well as a massively fragmented universe of CPG brands necessitates new approaches to general merchandise. General industry recognition of this issue is reflected in the work of CPG ecosystem professional organizations. For example, CPG non-profits such as the GS1 US Apparel and General Merchandise Initiative are currently working to make changes to improve data visibility for the category. Today, hundreds of companies are working together to create end-to-end item-level inventory visibility, improve product listings, images, and descriptions, and automate data sharing.
In the meantime, category managers and other retail buyers can expand their research process to include more trend and attribute-level analysis, as it tends to explain more of the "why" and the "what" of consumer purchasing behaviors. According to recent research from McKinsey and Co., there are some particular macro trends to examine while juggling shelf space. U.S. Millennials have a 6X higher likelihood of finding "better or more innovative brands" than baby boomers. For example, in this Helio analysis of more than 9,000 fashion labels, the brands with the highest indications of future sales growth were the ones that rated high on the attributes of "modern" and "fresh":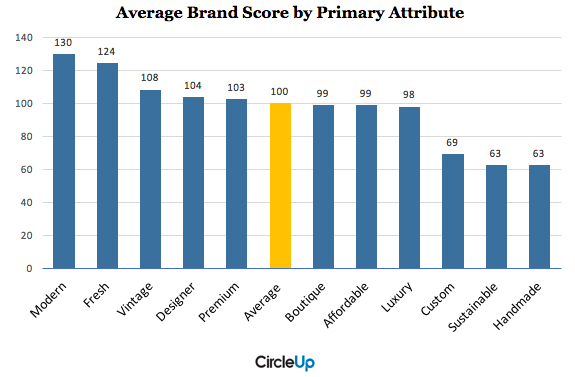 Brand score by primary attribute for fashion brands, as of September 6, 2017.
Additionally, McKinsey reported that 50% of consumers aim to consume "consciously", lessening their environmental impact, and there has been an explosion of small brands, with 4X faster growth than large brands in 2018 through 2019. With changes in consumer preferences and more brands entering the CPG space, getting a good handle on top attributes for general merchandise is more important than ever.

By understanding how these trends will impact the CPG landscape, you can position your business for success.
To learn more about Helio or get in touch, visit heliodata.com.