It was announced today that Liquid I.V., the leading better-for-you electrolyte drink mix brand, has signed an agreement to be acquired by Unilever.
We're extremely excited to congratulate Brandin and team on the company they have built. Liquid I.V. is a standout brand in CircleUp Growth Partners' portfolio and a great example of how we use data and technology to find, evaluate, and fund transformative consumer brands.
Helio, CircleUp's proprietary data platform, flagged Liquid I.V. back in 2017 as a powerful brand with strong distribution growth (more on that here) and Helio continues to show conviction in the brand. Below is a data-driven take on what makes Liquid I.V. a standout company today, in the eyes of Helio. What we see in the data leaves us hugely optimistic about Liquid I.V.'s future with Unilever.
If you are a student of CPG, and evaluate what attributes have driven success for the greatest emerging consumer brands over the last decade, as we have, you'll see patterns. The most successful companies have several commonalities – a brand that resonates with the consumer, a product that is unique in a way that matters to the consumer, and meaningful distribution growth. When CircleUp invested in Liquid I.V. in 2018, that is exactly what we saw.
Through Helio we saw a company with a differentiated product and a passionate customer base. It had competition but insights from Helio like this one gave us conviction that the brand was resonating deeply with the consumer.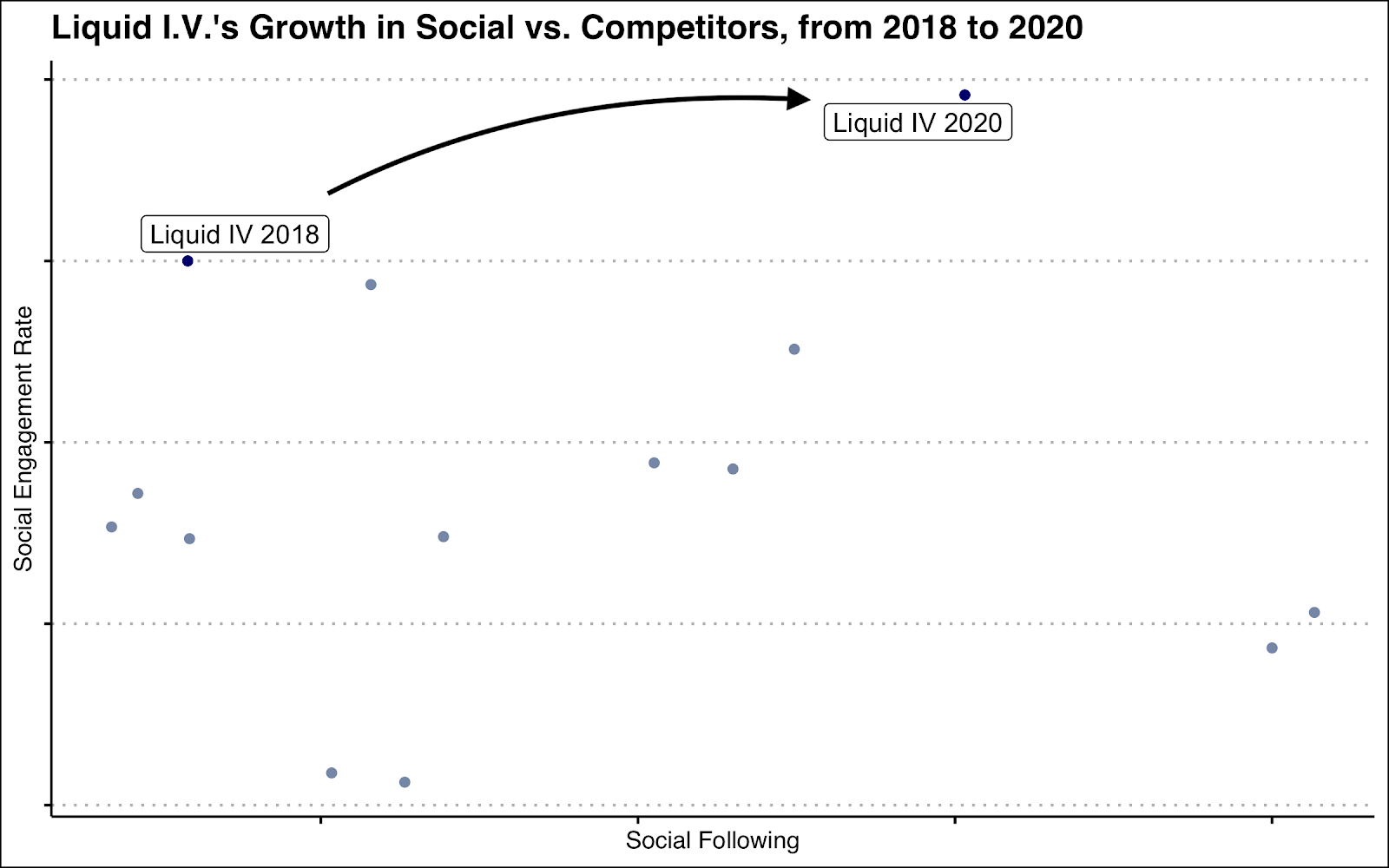 Source: Helio
CircleUp has built models that evaluate brand strength and has been able to show correlations between those signals and future growth. Based on historical patterns across tens of thousands of other companies, we were confident that Liquid I.V.'s highly engaged following would help it retain current customers and acquire new ones organically, and this would translate to market-leading growth in the hydration category.
Now, in 2020, that hypothesis has been proven out as Liquid I.V. has seen tremendous success and grown into the category leader. Returning to the same analysis today, we see that Liquid I.V. has kept its market-leading engagement rate while growing its follower base faster than its competitors.
Helio tracks multiple brand, product, and distribution dimensions correlated with success and we have watched Liquid I.V.'s growth across every one of these predictive dimensions. Liquid I.V. has won distribution with key retail partners and has been able to channel its loyal following into its DTC business during Covid-19. The upstart brand with a loyal, engaged audience has grown into the market leader.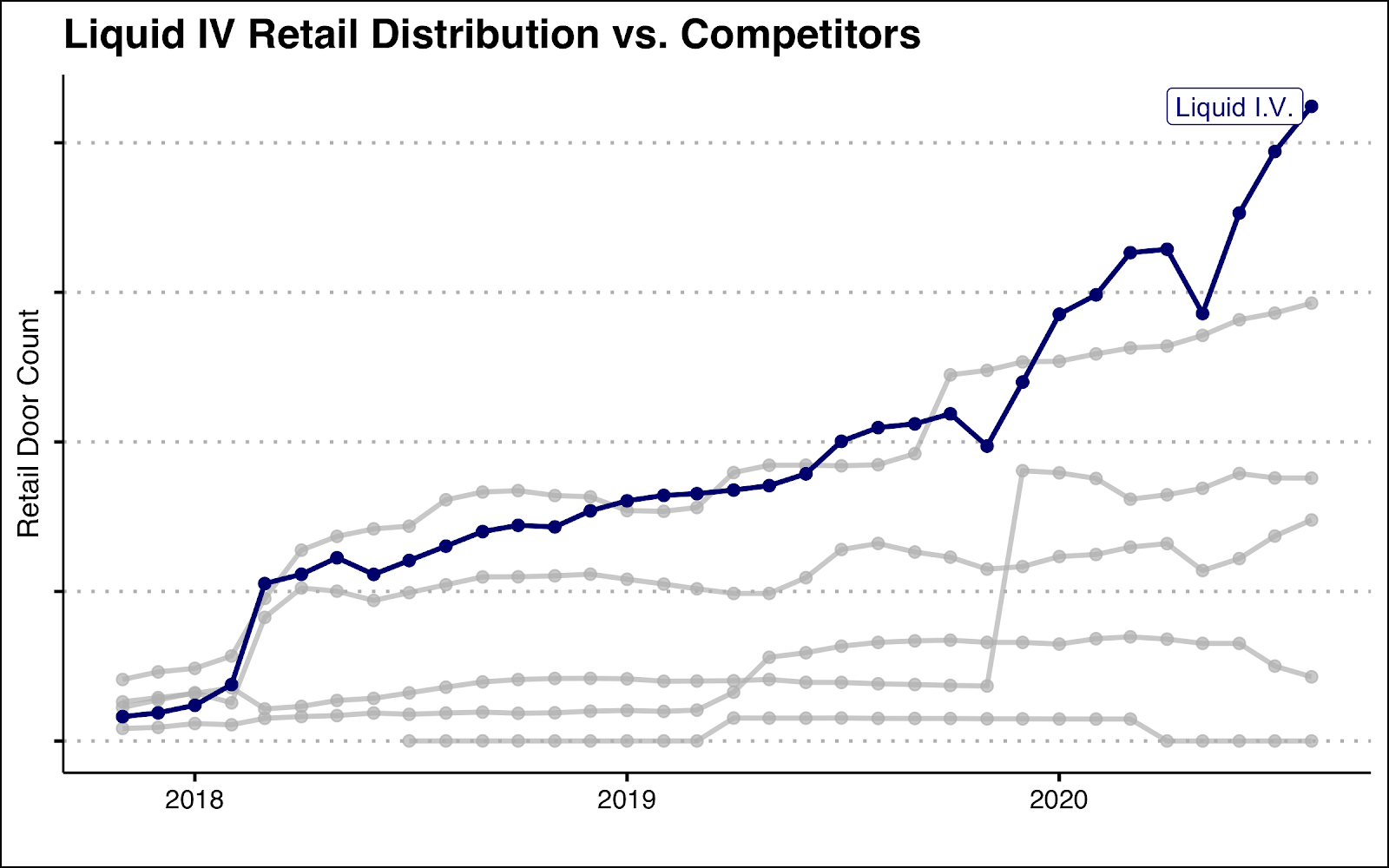 Source: Helio + Nielsen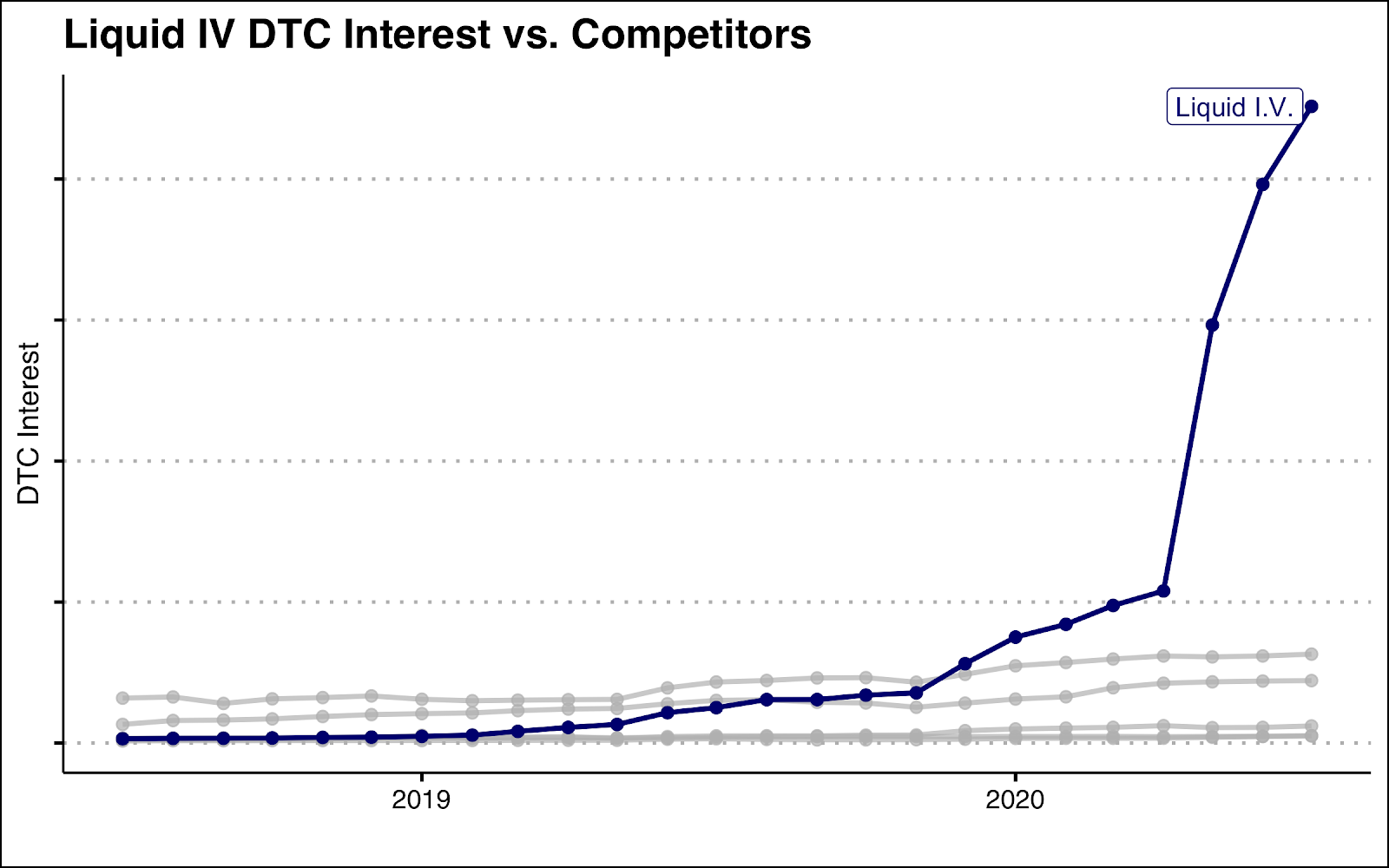 Source: Helio
We believe Liquid I.V. will continue to thrive under Unilever and help more and more consumers live healthier, more active lives. Here, we'll walk through the conviction Helio gives us in Liquid I.V.'s product differentiation, its ability to expand into new product categories, and its offline retail opportunities.
Core Product Differentiation
Think about the most successful brands of the last 20 years. Glaceau (Vitamin Water), KIND Bar, Chobani, etc. all had products that were unique in a way that mattered.
Helio lets us see which aspects of a product's value proposition resonate most with consumers and what makes each product unique. For a brand to grow quickly, it must be differentiated in a way that consumers understand and value. The below analysis is an example of what Helio can tell us about Liquid I.V.'s positioning. It shows the attributes customers most associate with Liquid I.V. compared with its competitors, using a TF-IDF methodology. TF-IDF (term frequency–inverse document frequency) of consumer reviews helps us to identify brand differentiation by extracting terms and attributes that are unique to a single brand relative to the competitive set. To facilitate this analysis, Helio pulls data from hundreds of sources and leverages in-house entity resolution technology and industry classification technology.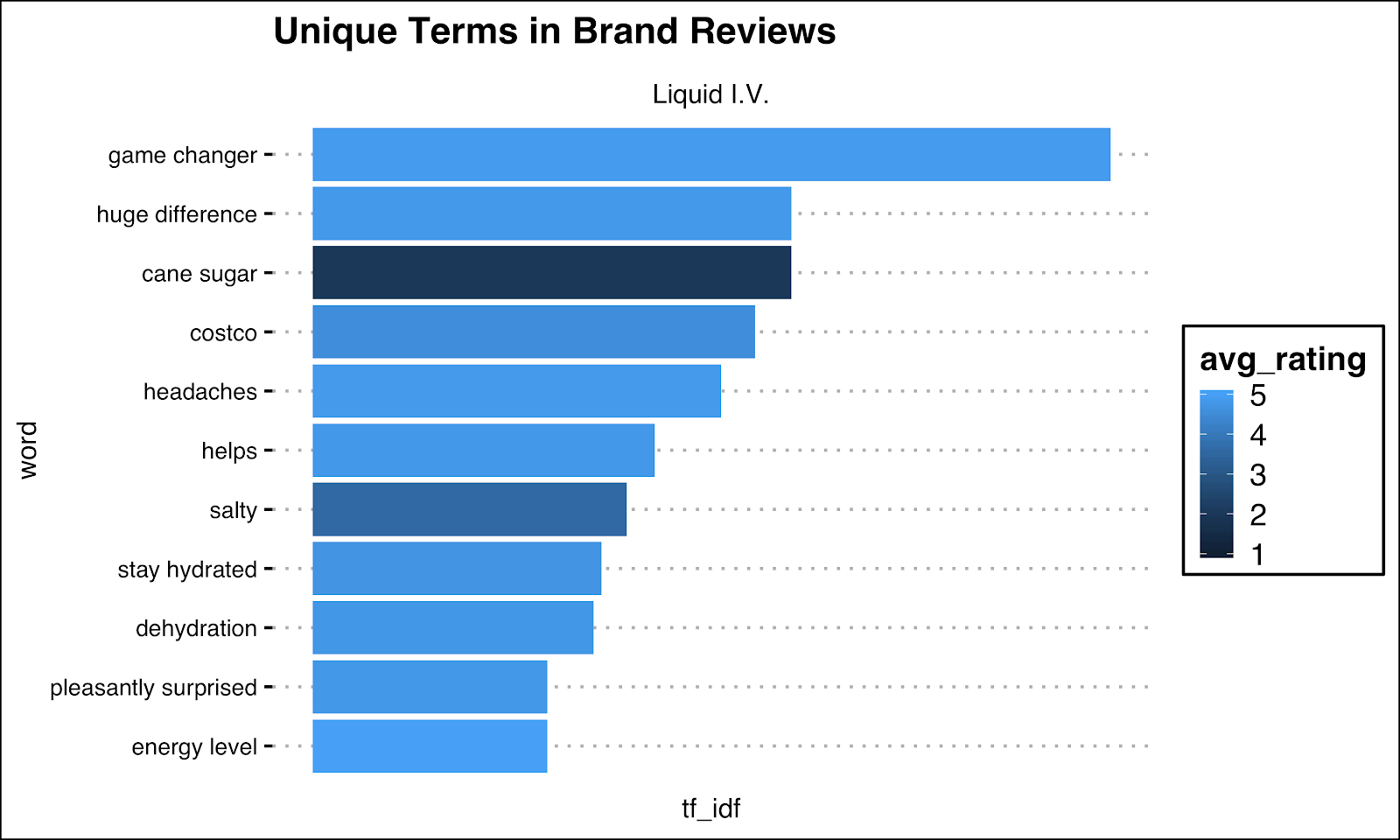 Source: Helio
Examining the terms customers uniquely associate with Liquid I.V., we can see that the efficacy of the product shines through. Liquid I.V. customers notice the benefits to their energy level and in curing headaches. They associate Liquid I.V. with staying hydrated and boosting energy levels. Even the inclusion of cane sugar, which some customers rate negatively, contributes to Liquid I.V.'s efficacy; it is a part of Liquid I.V.'s proprietary Cellular Transport Technology which helps make the product so effective.
At a category level, we have seen consumers become increasingly interested in wellness generally and hydration specifically, as shown in the sales index of beverage brands with Helio-identified "hydration" attributes vs. the rest of the beverage market below. We believe that Liquid I.V.'s position as the leader in effective, science-backed hydration coupled with the tailwinds of this growing market will continue to power the company's growth.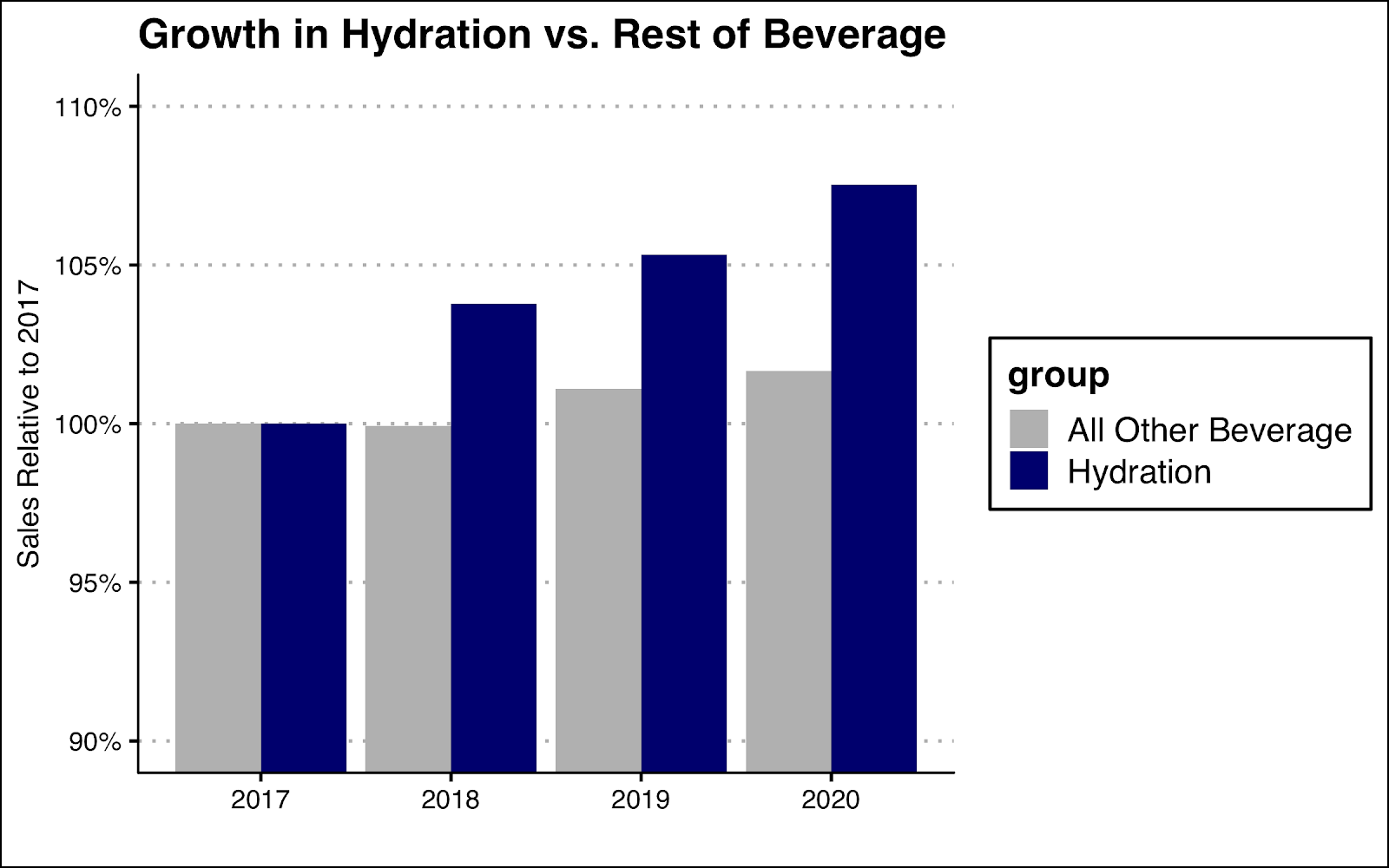 Source: Helio + Nielsen
New Product Lines
Liquid I.V.'s strong connection to consumers has also enabled it to expand into adjacent categories. The trust it has built with its customer base through Hydration is propelling its Sleep and Energy product lines and we are excited to see these businesses grow alongside Hydration.
To further understand Liquid I.V.'s opportunity in the Energy category, we can use Helio to analyze how consumers rate Liquid I.V.'s energy product compared to competitors on key purchase criteria in the category, which are automatically generated. We can see that Liquid I.V. performs above competitors on taste and energy, the two most important purchase criteria according to Helio.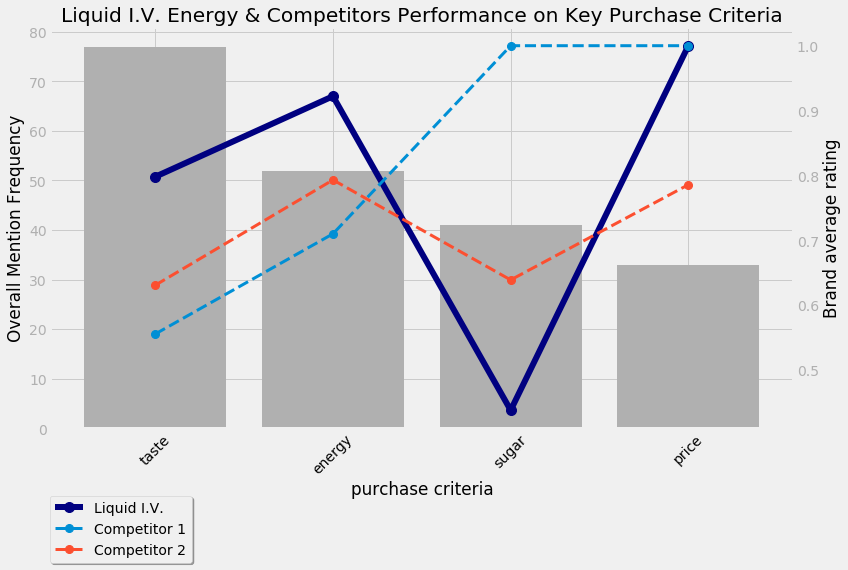 Source: Helio
Retail Whitespace
We can see in Helio that while Liquid I.V. has already had terrific success expanding in retail, it still has a lot of room to grow. Legacy brands like Gatorade have retail presence several times larger than Liquid I.V. The below Retail Whitespace chart shows the number of retail doors by channel for Liquid I.V. compared to incumbent hydration brands (the bubble size for incumbent brands represents the top incumbent per retailer and sums across retailers for channel totals). There is opportunity for Liquid I.V. to expand its retail presence, especially in Discount and Convenience.
Source: Helio + Nielsen
We can also use Helio to instantly map retail distribution and see that there is considerable room for Liquid I.V. to expand geographically, both with its existing retail partners and in new accounts. Just imagine how long it would take a consultant to do this work. This Market Penetration Map gives a snapshot of Liquid I.V.'s percentage of retail doors relative to legacy hydration players by ZIP code. It shows that while Liquid I.V. has made impressive headway, especially on the West Coast and in the Northeast, there is still a massive opportunity for Liquid I.V. to gain retail accounts where legacy hydration brands are distributed. This is still the start of Liquid I.V.'s growth story.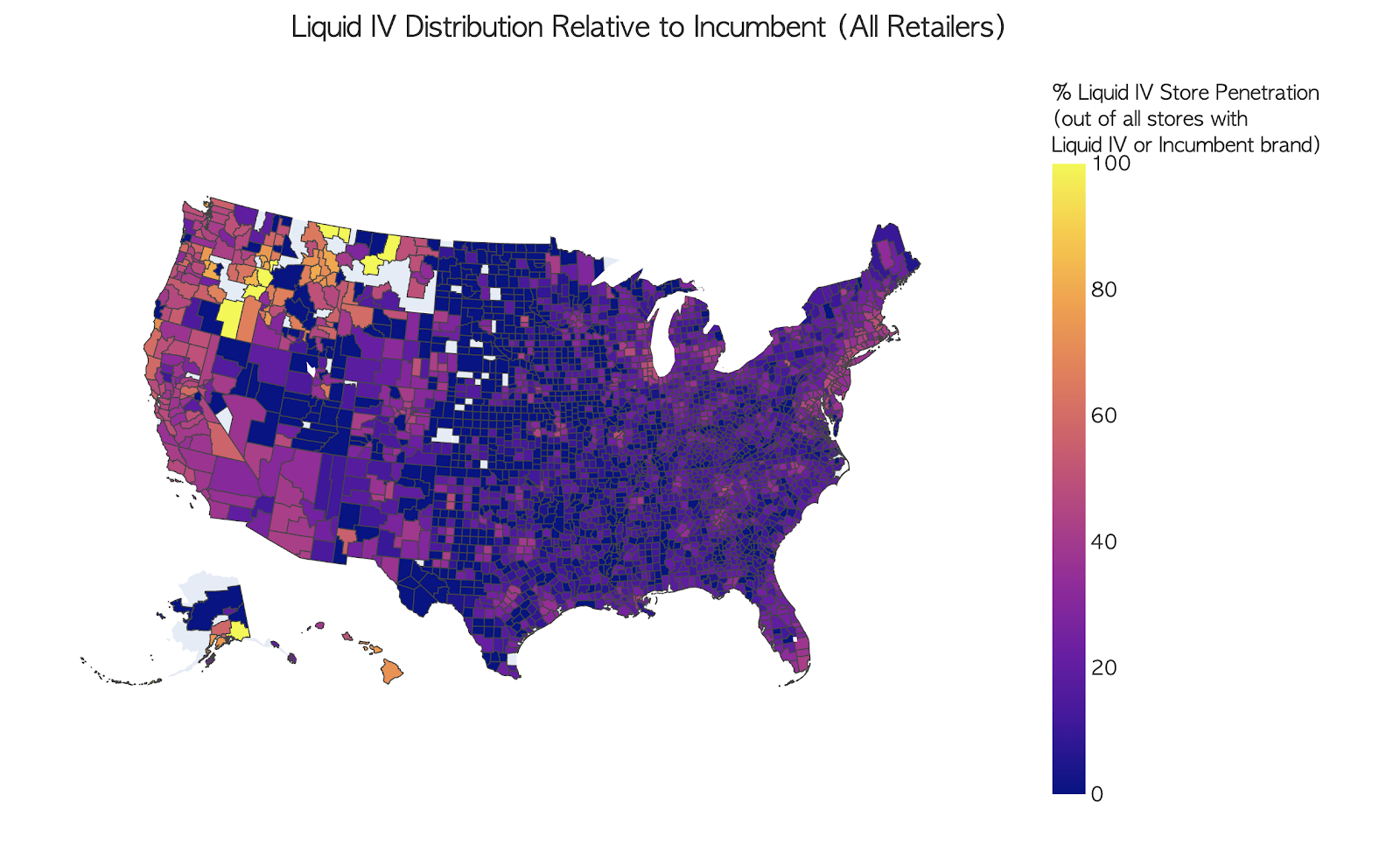 Source: Helio + Nielsen
Combined with its core product differentiation and expansion into new product categories, Liquid I.V.'s considerable runway in retail distribution gives us confidence that it will continue to grow quickly as it helps more and more consumers be healthier and happier.
Congratulations to Brandin and team. Liquid I.V. is a standout company because of your vision and mission. We see a bright road ahead for you.
By understanding how these trends will impact the CPG landscape, you can position your business for success.
To learn more about Helio or get in touch, visit heliodata.com.