The Helio Insights series uses our machine learning platform Helio to shine a spotlight on interesting products and brands in the consumer goods sector. Medicinal mushrooms have been on several lists as a trend to watch in 2018, so we thought we'd take a data-driven look.
Mushrooms-Not Just For Pizza and Soup Anymore
"Medicinal," "adaptogenic," and "functional" are all different adjectives for describing the same thing – mushrooms that proponents claim help stabilize physiological processes, resulting in reduced stress and anxiety and higher levels of focus.

Only certain mushrooms have adaptogenic characteristics: Reishi, Lion's Mane, and Shitake are some of the more popular mushrooms with these properties.

Adaptogenic mushrooms are nothing new. The medicinal qualities of many of these mushrooms have been appreciated for thousands of years in cultures around the world.
Productionalizing Mushrooms
Medicinal mushrooms have been enjoyed whole or in tea for a long time, but it's only in the past 5-7 years that they've started to be productionalized and made their way into a wider variety of products.

Today, adaptogenic mushrooms can be purchased in powders, supplements, coffee, and even granola bars. The more prominent players in this space are captured below.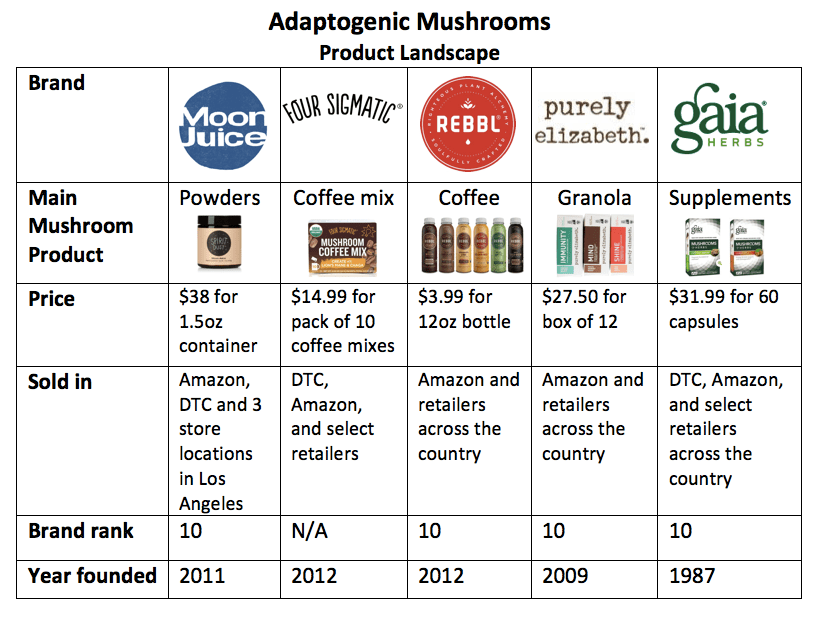 Some companies, like Rebbl and Four Sigmatic, anchor their products on adaptogenic mushrooms, while others, like Purely Elizabeth and Gaia Herbs, have diversified product lines and offer products with adaptogenic mushrooms as one of those lines.

One thing that all these companies have in common is their great brand ranks. All (except for one for which we have didn't sufficient data) ranked in the top 10% for brand score. Our machine learning platform

Helio

assigns a brand score by evaluating a brand's strength, reach, and intensity across a variety of channels.

The substantive reach of these brands is evidenced by each of their large gains in social media followers over the past 2 ½ years, as seen below. It's clear that these companies and their products are resonating with consumers.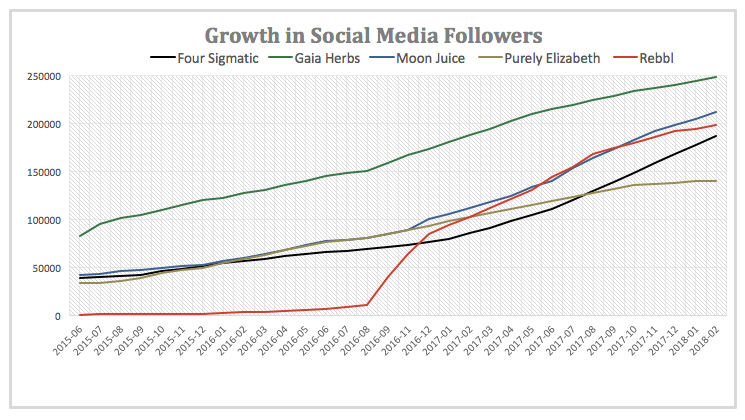 Opportunities
The global mushroom market is expected to hit $50 billion dollars within the

next 5 years

.

Medicinal mushrooms are helping to contribute to this growing market. For example, sales of products with Shitake mushroom increased by

800% last year

.

Tea and coffee have

historically been

the key segments for herbal adaptogenics, but medicinal mushrooms provide an opportunity to expand the market beyond these segments- as evidenced by the success of companies like Purely Elizabeth.

This is not a crowded market so new entrants have an opportunity to quickly tap into this trend, especially since there are no incumbents and no signs that Big CPG will try to play here.
Challenges
Despite consumers extolling the virtues of adaptogenic mushrooms, there is, as of yet, little scientific evidence that adaptogenic mushrooms actually lead to reduced stress or anxiety. Importantly, there is also no evidence that they are harmful.

Could this lack of evidence hurt the trend in the long run? For products that include adaptogens as additives like coffee and granola, I don't think so. Consumers can sometimes be carried by the sentiment around a health based movement without demanding as much research or evidence on that movement. One need look no further than

Non GMO labels

to see this in action.

Powders and supplements that are entirely adaptogens will be more exposed to this risk. In the long run, consumers may be reticent to fork over $30 or $40 for adaptogens that have little scientific backing.
Summary
In the short term, adaptogenic mushrooms are an exciting trend and dovetail well with consumer sentiment over relaxing more and taking care of their mental health. In the medium to long term, the future of this trend for powders and supplements will be partly linked to scientific research developments.

If more players begin to tap into the adaptogenic trend, it will likely cause the scientific community, and perhaps the FDA, to take larger interest in adaptogens and conduct more research on their effects. Watch for developments on this front.
By understanding how these trends will impact the CPG landscape, you can position your business for success.
To learn more about Helio or get in touch, visit heliodata.com.