Earlier this month, we announced that

Helio

, our (once exclusively internal) data platform that we've used to discover some of the world's top CPG brands, is now commercially available. And to say we are overjoyed to finally be able to share the power of Universal Data with the entire consumer ecosystem is putting it lightly!
Given that Helio provides first-of-its-kind analytics for the CPG world, we wanted to answer a few questions we've been getting since the announcement and subsequent

CNBC coverage

.
What is Helio?
Helio is the first data platform of its kind to capture data from every consumer touchpoint and consolidate it into one universal solution to help anyone looking to invest, innovate, or grow in the consumer ecosystem identify emerging opportunities. We call this Universal Data, and it enables brand comparison, trend analysis, and consumer insights.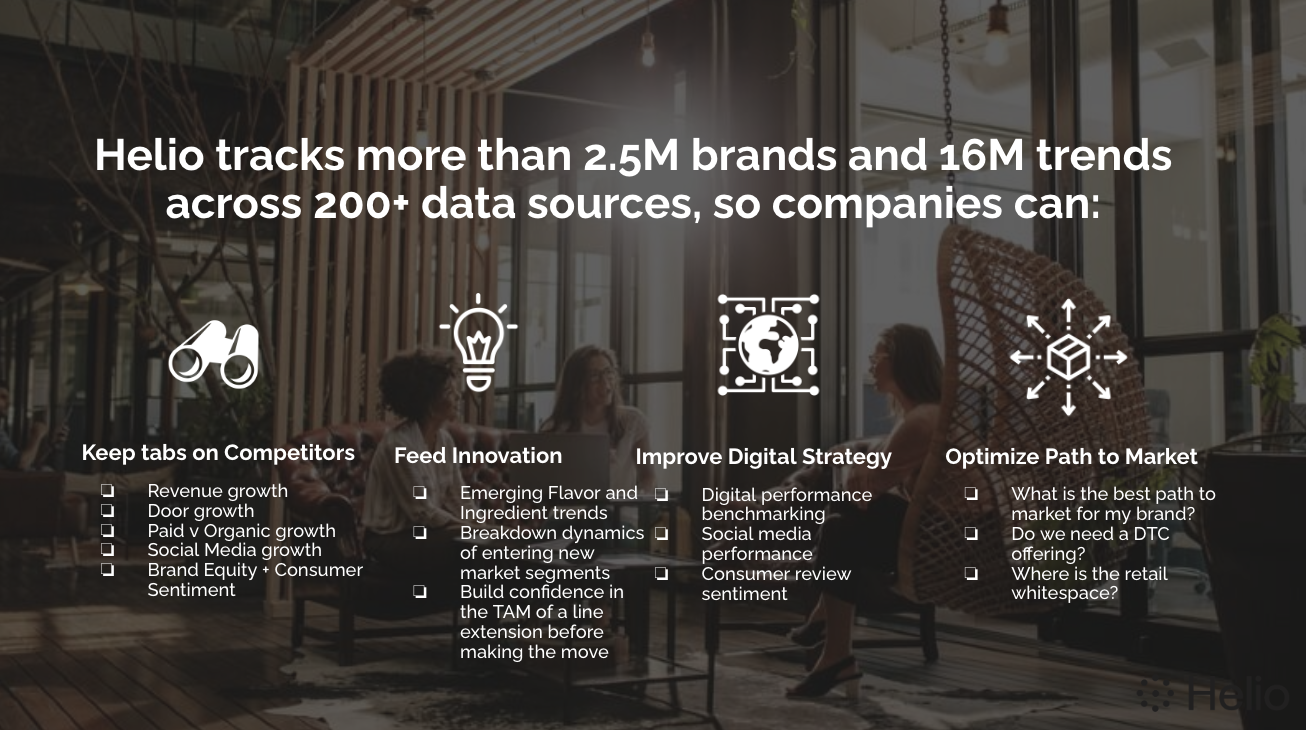 Over the past several years, CircleUp's venture fund has used Helio as a data tool to help source and diligence CPG deals. During that time, Helio's insights lead to the discovery and investment in some of the nation's top consumer brands including Liquid I.V. and Function of Beauty. Our business lending platform, CircleUp Credit Advisors, also uses Helio to help connect brands with the capital they need, as well as insights to help ensure their success.
Why is Helio available now?
Over the last 10 years, we've watched the consumer goods industry fundamentally change. The way people consume is vastly different than how it was just a few years ago and the way new products are brought to market is fundamentally different as well.
Instead of just going to the store, consumers sometimes have tens to hundreds of touchpoints with a brand before becoming a customer, ranging from direct-to-consumer, to in-store, to online reviews. Other times, they see a brand go viral on TikTok overnight and immediately head to their website with an order.
This makes it harder than ever for brands and innovation teams to keep up with the latest trends, and investors and M&A teams to have a pulse on the fastest-growing brands. Once we saw this become a problem in the market, we knew we had a solution to help with Helio.
We think our CEO, Danny Mitchell, puts it best:
"Key players, such as Amazon, Instacart, and Drizzly, have transformed how we consume by bringing retail to our doorsteps. No one in the world is capturing data from every retail and direct-to-consumer source, including rapidly-growing channels such as Instagram and TikTok. Everyone in the consumer goods industry using traditional data providers is flying blind. With Helio, the entire consumer ecosystem will experience better outcomes, ranging from inventing and creating more targeted products and services, to responding to competitive threats ahead of time, and identifying disruptive trends and brands before anyone else."
Bottom line: We want to help all kinds of businesses, from small CPGs and large CPGs, to aggregators, investors, suppliers, and everyone in between, to have a complete view of the market.
What does Helio's Universal Data identify?
Universal Data integrates the universe of current digital, social, online and offline sales performance data and puts it behind a single pane of glass so consumer goods professionals can innovate, invest and grow their businesses with confidence.
Historically, people in these roles have had to manually combine data such as POS data providers like SPINS, Nielsen, and IRI, Consumer Panel data like you'll find at Numerator, social listening data, web performance data and more together in order to access the insights available out of the box in Helio. This means Helio synthesizes and integrates the broadest data set in the CPG space, covering all channels, all categories, all the time.
Here is a sample of what you can gain from Helio's Universal data:
Category Insights: Identify and investigate top categories, trends, and sizing using Retail or Amazon Sales Data
Category Deep Dive: Gain a deeper understanding behind what's driving sales growth for specified categories. Understand which sub-categories are leading with innovation and predicted to break out in the next 12 months.
Attribute Analysis: Find the hottest trending brand attributes within a selected category, comparing sales growth, social, web, and average HGP score.
Brand Sourcing: Use categories and attributes as filters to find interesting brands.
Brand View: Access to single-brand one pagers with time series data on sales, distribution, web, social, and review.
Brand Diligence: Expanded view into retail sales brand health, with focus on velocity and percent of volume sold on promotion.
Brand Comparison: Key competitor overview with custom inputs based on client request and Helio capabilities.
Review Analysis: Understand review sentiment for the selected brand and competitive set.
Brand Equity: Helio uses review data to identify unique terms for each selected brand, and reveals consumer sentiment around those terms.
Brand Differentiation: Helio uses review data to understand which aspects are most important in driving consumer purchase behavior, and reveals how selected brands perform against those aspects.
Geographic Analysis: Understand geographic distribution opportunities for the select brand and/or competition, as well as growth over time.
Distribution Analysis: Helio identifies the current percent of business by retail channel, and suggests which channels the selected brand should expand to next.
Path to Market: Helio compares emerging brands to established brands, showcasing a successful path to market and timing around when gains in distribution were realized, and in which channels those gains occurred.
White Space Analysis: Helio can show number of facings, store count, and percent of stores carrying a selected brand, revealing opportunities for distribution and penetration.
Social Media Engagement: Helio is able to segment social media engagement by platform (Twitter, TikTok, Facebook, Instagram, and more), showing interactions between followers and selected brands over time.
Helio Growth Predictor & Opportunities for Improvement: Brands can be compared via Helio's HGP component scores, showcasing opportunities for improvement and models of success in each component.
Can I see a demo?
Yes! If you're interested in learning more about Helio, fill out the below form and we'll contact you to schedule a demo. If you're not quite ready for a demo but would like to learn more about Helio, check out this case study where we helped a Fortune 500 CPG brand increase sourcing efficiencies by 210% or this one where we helped BTomorrow Ventures break into the "Functional Powders" category. You can also check out our Beauty and Pet data deep dive reports where we look at industry trends as a whole.
By understanding how these trends will impact the CPG landscape, you can position your business for success.
To learn more about Helio or get in touch, visit heliodata.com.