"The business of business is business" is an oft repeated paraphrase of Milton Friedman's ideas on the role of business in society. Friedman, and many profit minded shareholders and investors before and since him, argue that the sole role of a business is to generate profit for its owners. Any activities undertaken without this end in mind are misguided. Many business leaders and investors may still feel this way, but consumers, the ones using and buying the business products, are starting to feel differently.
Consumers are increasingly asking questions about the products they use. No longer satisfied with coffee that tastes good or a shirt that looks cool, many of us now want to know where the coffee was farmed and how the shirt was made to ensure that people were paid fairly and treated humanely during the manufacturing of the products. But more than just a "do no harm" mentality, consumers care about supporting business that do good for their communities.
Certified B Corps are for profit companies that have been certified as meeting rigorous environmental and social standards by the nonprofit B Lab. B Corps think differently about what constitutes a profit and strive to deliver value for their broader communities. Whether it's Patagonia pledging 1% of sales to support environmental organizations, King Arthur Flour employees volunteering nearly 6,000 hours a year to different causes, or Barnana taking scuffed and ripe bananas that would have been thrown away to make their products, certified B Corps from a variety of industries are finding ways to have a positive social impact. Today, there are over 2,400 B Corps in 50 different countries representing over 100 industries.
We at CircleUp have long taken note of the importance of B Corps- we even launched an investment fund focused on B Corps in 2014. B Corps are compelling not just to consumers, but also to investors, and Helio, our machine learning platform, demonstrates this. Although B Corps are by definition committed to focusing on more than just profit, many of these brands perform far above average on brand and revenue related metrics. Far from detracting from the success of the business, it seems that a commitment to mission actually helps companies grow.
Above Average Brands
Our machine learning platform Helio has scored the brands of the 306 B Corps operating in the consumer space. Helio establishes a brand score by examining billions of data points covering a wide range of information to help us evaluate the strength, reach, growth and intensity of a brand. Brand rank is where a company with a certain brand score falls relative to companies in its same category (e.g. a peanut butter will only be ranked against other peanut butters). The average brand rank across all consumer companies is 5, but 93% of B Corps companies we analyzed scored above that average. In fact, 75% of B Corps scored a 9 or 10 on brand rank, as seen below.

Brand Rank of B Corps
It's clear that B Corps are resonating strongly with consumers, and a large part of this is likely due to their focus on mission. We have found brand score to be most predictive of future revenue growth.
Even Better Sales
The strong brands of B Corps do indeed correlate to strong sales (as our brand model would predict). Using a host of data, including data from our partners at Nielsen, we analyzed the monthly sales for the 72 consumer B Corps we had coverage on, and built an index comparing those companies' sales growth rates against the growth of the overall categories. We weighted the categories in the index depending on how many B Corps were in that particular category and set the cohort at the same starting point of 0. The results of the analysis are below.
Percent Change in Sales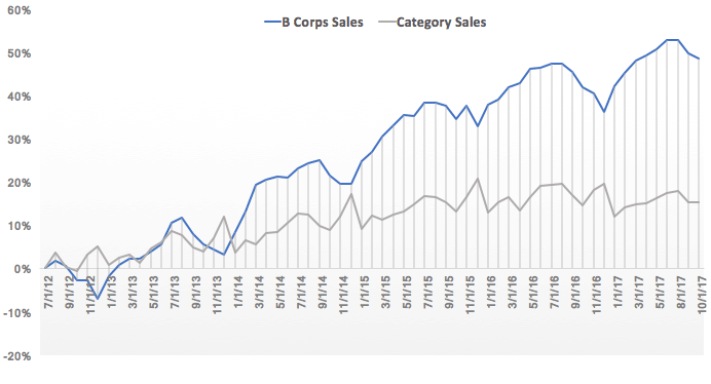 B Corps have seen high increases in sales over the past five years. As of October 2017, the B Corps cohort saw a 49% growth in sales compared to 15% for the category cohort––over 3X the sales growth. More than just liking these brands on Facebook or following them on Instagram, customers are going out to buy their products.
This phenomenon has been previously measured in different ways. In 2015, Nielsen surveyed 30,000 consumers and found that 66% of them were willing to pay more for sustainable goods. This was up from 55% the year before. The percentage would likely be even higher were the survey conducted again today. Consumers care about mission not just with their words but with their wallets.
Mission Carries a Consumer
The mission-focused brands of B Corps also mean that these companies are able build a consumer base that sticks with them through new initiatives and product launches. Barnana, mentioned above, is one such example. Sustainability has been core to the brand from day one. The company's entire line of snacks are produced from upcycled bananas. An estimated 20% of bananas produced in Latin America are wasted each year as a result of not meeting the ripeness criteria for the traditional grocery supply chain. Barnana takes these bananas, which remain perfectly suitable for dehydration, and uses them as a primary ingredient in their snacks. This provides enhanced economics for farmers who would otherwise have two suboptimal choices for their unused crop: feed or compost. Not only does Barnana's B-Corp certification authenticate its mission (which is to eliminate food waste on organic banana farms), it has also pushed the company to think strategically about additional areas of impact such as upcycling the banana peels as biofuel in the dehydration process.
In an increasingly crowded landscape of new and innovative consumer packaged goods, a brand's narrative or reason for being is paramount to success. Barnana has built a mission-driven brand synonymous with supply chain sustainability and the banana-trade more broadly which, in turn, has manifested in early signals of lifestyle appeal in the form of line extensions. Banana Brittle (a first of its kind, gluten-free brittle snack made with the same upcycled bananas) and more recently, Plantain Chips (which are paleo-friendly, grain-free and made from upcycled plantains) serve as two success stories of being able to expand beyond an initial hit product line early in the brand's life – permission that retail buyers and consumers are typically reluctant to grant. Mission helps make this happen.
Now that we've established that consumer B Corps have greater sales momentum than average, it follows that they may also present better than average investment opportunities. One of the things we love about the consumer sector is just how geographically diversified companies are, and consumer B Corps are no different. Although there are certain hubs for consumer B Corps (23 based in New York, 20 in Portland, and 15 in San Francisco), by and large, these companies are spread throughout the country, meaning that they can be harder to find for investors. Investors looking to get into B Corps would do well to step outside the core markets of New York and San Francisco and find these companies in other parts of the country. It's more work, but it's worth it.
Is Mission the New Black?
The data explored above is hopefully a clear indicator to board members and investors that if a company wants to focus on social impact as part of their mission, they should. These efforts do not deter from building a brand and boosting sales; in fact, they can add to it. "The business of business is business" is not necessarily wrong, but we're beginning to see that making a difference is, in fact, good business.
By understanding how these trends will impact the CPG landscape, you can position your business for success.
To learn more about Helio or get in touch, visit heliodata.com.