To properly leverage customer sentiment and channel it towards business growth, CPG leaders working in Customer Insights, Strategy and Innovation, and Market Analytics need nuanced and comprehensive data — and they need it ahead of the curve. It's critical to understand behaviors among different groups of consumers and within the categories and channels in which your unique business operates.
They also need to be able to keep tabs on their fiercest competition — what they're doing well, how they're innovating, and where they're missing the mark.
Yet with hundreds of thousands of brands to monitor, keeping your finger on the pulse of all that's emerging is no easy task.
That's why we created Helio: a data and insights tool that makes it easy to uncover forward-looking, data-driven insights in the most timely manner, and empowers CPG leaders to make strategic decisions that inform new product development, help defend shelf space, and more.
Leaders in M&A, Corporate Development, and Brand Management leverage Helio to:
The Helio overview
Helio is a self-service data platform that enables CPG leaders to track trends, competitors, and more. By pulling metrics from 1.5 million+ brands and 200+ data sources, Helio can identify trends before they go mainstream.
Helio is the most comprehensive intelligence data source of emerging consumer brands on the market, which means you get actionable insights from more brands and more sources — and you can do it all faster.
Leaders responsible for Strategic Innovation, Customer Insights, and Market Analytics depend on Helio as they strive to:
Uncover forward-looking insights about trends, categories, customers, channel mix, and competitors.
Identify brands with perfectly-timed growth potential, analyze investment targets for richness of brand equity, and ultimately execute due diligence efforts.
Compare brands based on attributes, track key purchase criteria, search customer reviews, and easily analyze key performance metrics.
Drive more informed, smarter, and more efficient sourcing decisions.
Defend shelf space.
So how does it all work?
Keep reading to learn how Helio clients use the features inside Helio to accomplish their goals in today's ever-changing world.
How Our Innovation & Strategy Clients Use Helio
To be successful, innovation and strategy initiatives must be able to:
Identify emerging brands, categories, and trends. Initiatives fail when competitors identify a hot opportunity before you do. Helio makes it easy to search for brands that are already addressing a given attribute with their product, so you can decide if pursuing that trend is going to be worth it.
Predict growth potential for brands and entire categories before your competitors do. Without Helio, you're left analyzing information that everyone already has. But with Helio's proprietary predictive analytics, our clients are able to project whether or not a brand might outperform its competitors.
Access and filter unique data on a granular level to gain never-before-seen at-a-glance insights. Our clients love being able to find exactly what they need, like which competitors have launched certain products within specific retailers.
Key Helio Features for Innovation & Strategy Clients
Helio users confidently find insights they need in less than three clicks by:
Getting an instant snapshot of a brand's revenue range, # of retail doors, online visitors, and social following.
Accessing key purchase criteria for consumers shopping in your category. Analyzing trends that are emerging versus those that have already peaked, so you can launch the right product right on time. Identifying the best channel or retail mix for a successful launch.
Accessing key purchase criteria for consumers shopping in your category.
Analyzing trends that are emerging versus those that have already peaked, so you can launch the right product right on time.
Identifying the best channel or retail mix for a successful launch.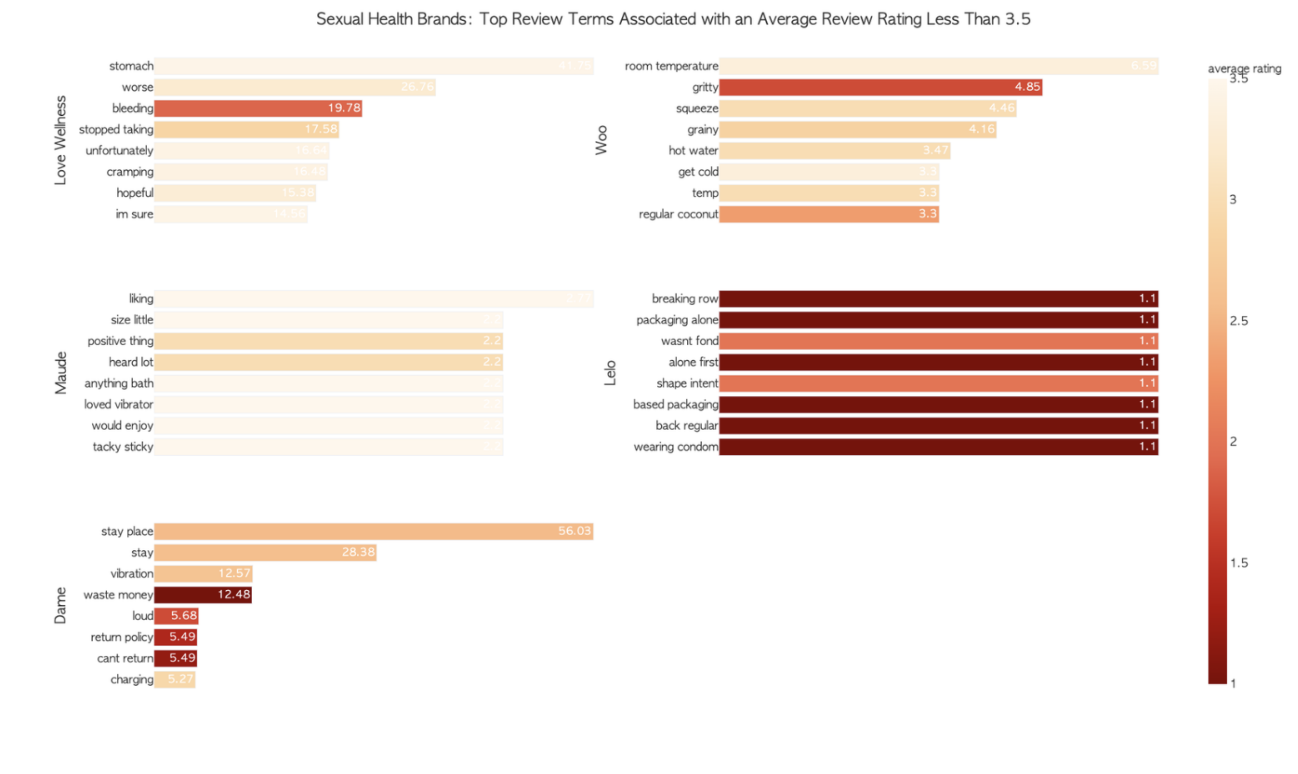 How Our Customer Insights & Market Analytics Clients Use Helio
Customer insights and market analytics teams are responsible for generating growth by deeply understanding their customers and feeding innovation. They need to:
Identify competitive threats, emerging trends, and consumer attitudes in a timely manner.
Get a handle on emerging brands before they have a chance to peak.
Capture and manipulate actionable insights.
Communicate findings in a user-friendly and compelling way.
Strike the right retail/channel mix.
Key Helio Features for Insights & Market Analytics Clients
Helio helps these teams become an essential internal resource for the entire organization, helping them:
Pull key customer purchase criteria and customer reviews.
Keep tabs on the gaps in the market as well as the hottest emerging brands
Detect alpha on products consumers will crave and obsess over.
Optimize decisions about exactly where to put those products in the market.
Aggregate trend insights at the category, product, or attribute level — across data sources and a variety of brands.
Leverage comparative analytics to review details for multiple brands at a glance.
Seamlessly communicate and report insight by exporting graphs to Excel — customizing the data, combining it with existing information already stored in tools like Power BI or Tableau, and more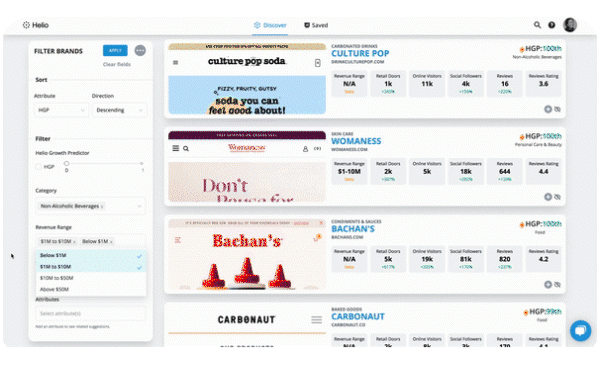 The Helio Difference
So what makes Helio different from other CPG data platforms?
First, most tools aren't tracking enough brands, pulling data from enough sources, or staying ahead of emerging trends.
We're comprehensive. We pull from 1.4M+ brands and 200+ sources — the broadest dataset in the emerging CPG space. This means you leverage the full picture to make better informed and more confident decisions.
We're ahead of the curve. Because we're able to identify emerging brands and trends before they peak, you catch your competition off balance. As a result of predictive analytics, you're more likely to be the first to market with brands consumers obsess over.
We're not just online. Because we dig deeper and beyond the most commonly used data points, you access the universe of current digital, social, online and offline sales performance data. With this holistic picture of performance, you can strike the perfect channel mix and retail strategy. As a result, you meet consumers everywhere they are and widen your opportunities for growth.
We're scalable. We know emerging and enterprise brands have different needs. That's why Helio's features support initial and long-term growth.
Request a Demo
Profiting from emerging trends means operating with a sharp focus on innovation and predictive analytics. Identifying and taking advantage of future growth pockets means out-executing the competition and elevating your overall results.
By understanding how these trends will impact the CPG landscape, you can position your business for success.
To learn more about Helio or get in touch, visit heliodata.com.